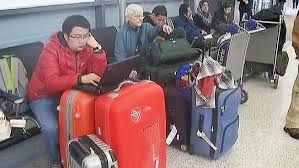 JetBlue has halted flights to and from Boston, New York City and Newark to allow them to get flights back on track.
Beginning at 1 p.m. Monday, JetBlue reduced operations at Boston's Logan Airport, New York's JFK and LaGuardia airports and New Jersey's Newark Airport.
The shutdown affects 300 JetBlue flights at the four airports.
By 5 p.m., all flights were shut down and will remained stopped until 10 a.m. Tuesday.
On Tuesday morning, flights will gradually ramp up again, the company said in a statement.