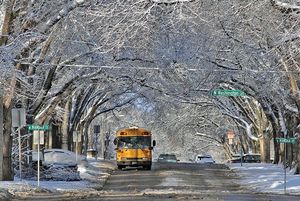 A late-winter storm was expected to gum up travel Tuesday as it crept slowly across the Central and Midwest U.S. before heading east later in the week, forecasters said Monday.
The storm was expected to peter out by the time it hits New York and Boston later in the week, but not before it creates a mess for commuters from Upper Mississippi and Ohio River valleys eastward to the Atlantic Coast.
Significant snowfall will make travel dangerous Monday night and Tuesday in the Upper Midwest, especially around major cities like Minneapolis, Indianapolis and Chicago
. The Weather Channel warned that major delays were likely Tuesday at O'Hare and Midway airports.
Chicago is expected to get its biggest snowfall of the season - as much as 10 inches by Tuesday evening. The National Weather Service said accumulation rates of one to two inches an hour beginning Tuesday morning would make "snow removal difficult and travel extremely dangerous."
"Consider only traveling if in an emergency," it said in issuing a winter storm warning for the city.
Unseasonably warm temperatures Monday melted some of the winter's snow in the Twin Cities of Minneapolis and St. Paul - just in time for a new blast of winter that could drop as much as 7 inches of new snow overnight and Tuesday.