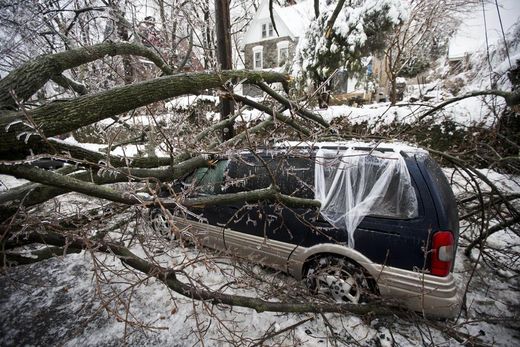 A major winter storm advancing across the U.S. midsection Wednesday brought heavy snow, heavy ice accumulation and heavy rainfall to two-thirds of the country.
At least 115 million people in more than a dozen states -- more than a third of U.S. population -- were under some form of winter weather alert, the Weather Channel reported.
More than
2,000
flights were canceled and nearly
1,100
were delayed as of early Wednesday, flight-tracking website Flightaware.com said.
Roads and highways were closed due to the weather and accidents, and mass transit was curtailed in many areas.
Government offices and schools were shut in hard-hit areas. Many school districts already exceeded their "snow day" allotments, so they were now deducting days from students' spring break or adding days to the school year.
The governors of at least three states -- Mississippi, Kansas and New Jersey -- declared states of emergency to deal with storm response.
Gov. Andrew Cuomo said late Tuesday New York had 1,789 plows, 359 loaders and 4,185 operators "stationed and ready for the storm, along with 259,605 tons of salt."
New York City's Office of Emergency Management issued a hazardous travel advisory.
Other Northeast cities declared snow emergencies.