It now appears that the stratosphere will kick off a number of indices that deem February to be the coldest prolonged period of winter thus far. In today's post, I will address multiple indices that favor a significantly colder than normal February.
Part I: The Stratosphere
- First Warming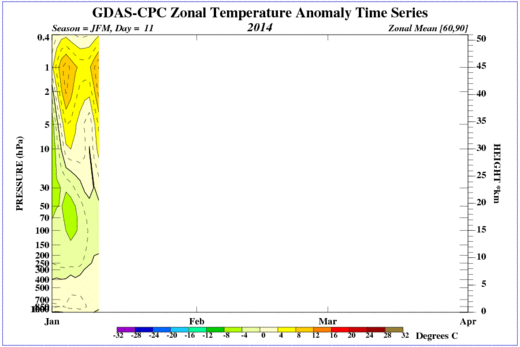 In the opening days of January, we saw a stratospheric warming event occur. This event was minor, as the chart above (depicting temperature anomalies in the upper latitudes) shows. Nevertheless, this first warming event, coupled with the ongoing warming event is helping to destabilize the polar vortex in the stratosphere. So far this winter, the stratospheric polar vortex has been resistant to any and all attempts to be put down. We can attribute this to the positive phase of the Quasi-Biennial Oscillation (QBO), which is unfavorable for a weak polar vortex. These two first warmings are just tastes of what is to come. While the first warming was minor, it seems to have shaken up the vortex at least a bit, and this ongoing warming event right now is most likely helping with some slight (at the very least) destabilization of the polar vortex.