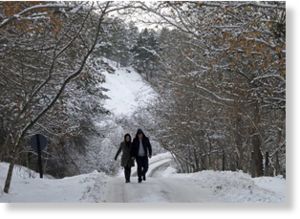 A severe and snowy cold snap across central and eastern Europe has left at least 36 people dead, cut off power to towns, and snarled traffic. Officials are responding with measures ranging from opening shelters to dispensing hot tea, with particular concern for the homeless and elderly.
This part of Europe is not unused to cold, but the current freeze, which spread to most of the region last week, came after a period of relatively mild weather. Many were shocked when temperatures in some parts plunged Monday to minus 20 Celsius (minus 4 Fahrenheit).
"Just as we thought we could get away with a spring-like winter ..." lamented Jelena Savic, 43, from the Serbian capital of Belgrade, her head wrapped in a shawl with only eyes uncovered. "I'm freezing. It's hard to get used to it so suddenly."
Officials have appealed to people to stay indoors and be careful. Police searched for the homeless to make sure they didn't freeze to death. In some places, heaters will be set up at bus stations.