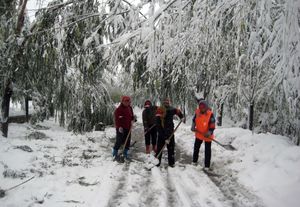 Netizens and scholar point to traditional culture, and posit causal link
A blizzard swept through northeastern China on Nov. 4, shutting down transportation in Beijing just before the opening of the 18th Party Congress. The unexpectedly early snow storm was commented on heavily, with Internet users drawing a connection between the inclement weather and the Chinese Communist Party's upcoming political meeting.
Breaks Records
In the early morning on Nov. 4, Beijing's Weather Bureau issued their most severe weather warning, a red alert, for the western and northern parts of the city and a second most severe warning, an orange alert, for the entire city, reported the state-run
China Daily
.