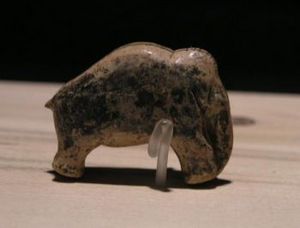 ©Joself Jelkic/The Epoch Times
The mastodon was found immediately outside the cave during a 2006 dig. The dig continues into 2009; who knows what other treasures might be unearthed.
It was a cool afternoon. A small gathering of people assembled at the Swabian village Stetten ob Lontal, in Germany. They waited for a guided trip to Vogelherd Cave.
It cannot be called a real cave, like one that allows you to descend deeply into the earth and that might feature artfully dripping stalactite and stalagmite sculptures, perhaps like the Charlotte Cave and other natural caves found in the Swabian Alps.
Excursion leader Brigitta Roeck led the group in stages up a soft, rain-soaked footpath. Ms. Roeck gave out snippets of information about climate and vegetation in the Aurignacia of 30,000 years ago.
What were people's days like back then? What did they eat? What thoughts did they have? We have only partial answers to our questions. Our limited knowledge is based on archeological discoveries. Aided by modern carbon-dating techniques, we may arrive at new interpretations.