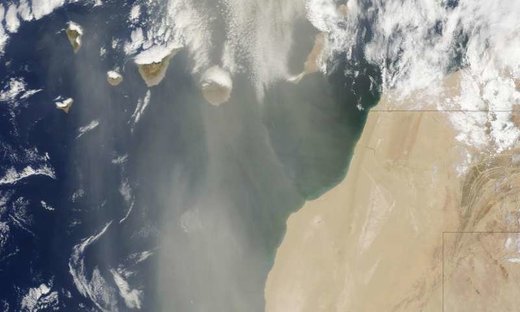 Iron, a critical element for living organisms, can be hard to hard to come by in open marine waters—except each summer, when atmospherically transported dust from north Africa's Sahara Desert provides pulses of biologically important nutrients, including iron, to the tropical marine waters of the Caribbean and southeastern U.S.
In a study published today in the
Proceedings of the National Academy of Sciences
, researchers from the University of Georgia found that
Vibrio bacteria respond rapidly to this influx of iron-rich Saharan dust, leading to large blooms of the potentially harmful bacteria in ocean surface water.
Vibrio bacteria, common to ocean waters worldwide, are probably best known for their ability to cause serious illness in humans and other marine organisms. These bacteria are also characterized by their ability to reproduce rapidly and respond to newly available resources.
"Part of what makes these normal marine bacteria also potentially pathogenic is their ability to grow quickly when conditions are favorable
, whether in a host or in the environment," said study co-author Erin Lipp, a professor of environmental health science in the UGA College of Public Health.
"While we are interested in how the population dynamics of Vibrio might cause disease, for this study we wanted to use Vibrio's opportunistic behavior as a model for how bacteria could exploit the availability of new nutrients and, in particular, iron delivered in dust."
In the laboratory, the researchers were able to show that iron in dust could cause test cultures of
Vibrio
to grow. To confirm these findings, the team traveled to sites in the Florida Keys and Barbados to measure the Vibrio growth during natural Saharan dust events.
Not only did they observe that dissolved iron increases in ocean surface water as the dust arrived, but Vibrio grew from a background level of just 1 percent to almost 20 percent of the total microbial community within 24 hours of exposure.