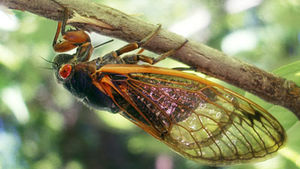 Another natural phenomenon has hit the Southern States as swarms of cicadas return after 13 years hibernating underground.
Every 13 years the inch-long insects emerge from their underground lairs to plague America's Deep South in a feeding and breeding frenzy.
It adds to the natural phenomena the region has battled with after tornadoes last month and floods in Mississippi this week.
Apart from their intense 120-decibel mating racket and the frustration of finding them in hair, clothes and lunch-boxes, they're completely harmless to humans.