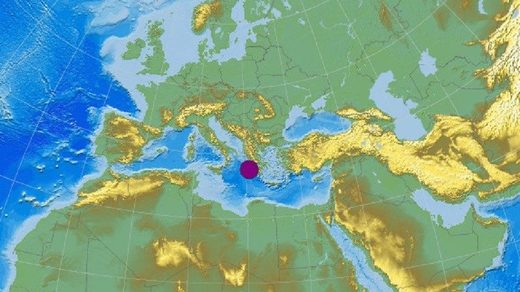 A magnitude-6.8 earthquake struck in the Ionian Sea off the coast of Greece early on Friday, briefly triggering a tsunami warning. No significant damage has been reported.
The quake struck at a shallow depth of 16.6km (10 miles) below the sea floor.
It reached the island of Zakynthos, a popular tourist destination, with initial reports indicating that some of the buildings there sustained damage.
A photo showing debris on the floor and dangling wires has been posted by a local resident.
However, the majority of the buildings appeared to be intact. "Minimal damage. Back to bed," a tourist, apparently vacationing on Zakynthos, tweeted.
The tower of the 13th-century Castro Monastery in the Strofades, small islands to the southeast of Zakynthos, was also affected by the quake, though the extent of the damage is unclear.
The earthquake was so powerful that jolts were felt across the region in at least eight countries, including Malta, Libya, Italy, Macedonia, Albania, Bosnia, Bulgaria and Turkey, according to the EMSC.
The European-Mediterranean Seismological Center (EMSC) warned about a possible low-scale tsunami that could last for several hours after the earthquake, citing sea level changes following the tremor.