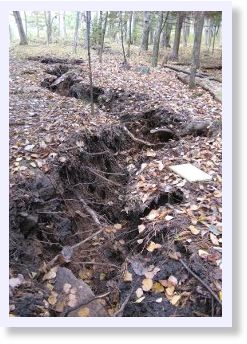 That shaking and loud noise experienced recently in Menominee County of Upper Michigan was indeed an earthquake, albeit a small one, according to a Michigan Tech researcher.
"The large crack and ridge were created most probably by a magnitude 1 or 2 earthquake," said Wayne Pennington, chair of geological and mining engineering and sciences, of the events that took place Monday, October 4.
The ridge and crack are 361 feet long, and the ridge is 4 to 5 feet high and 20 to 30 feet wide at its largest point, Pennington said after visiting the site. The crack is 2 feet wide and 4 to 5 feet deep at its largest point. Trees are tipped away from the crack at about 14 degrees on either side, showing that the surface is now tipping, having formed the ridge.