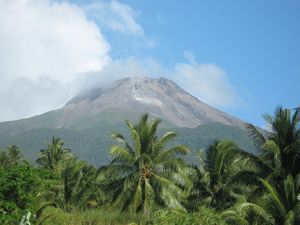 At least nine volcanic quakes were recorded near restive Bulusan Volcano in Bicol in the last 24 hours, national disaster management officials said Tuesday.
The National Disaster Risk Reduction and Management Council (NDRRMC) also reported weak emission of white steam from the volcano's northwest thermal vents.
"For the past 24-hour observation period, Bulusan Volcano's seismic network detected nine volcanic quakes. Measurement of sulfur dioxide emission rate yielded an average value of 36.56 tons per day. Weak emission of white steam was observed from the northwest thermal vents from 8:35 to 10:35 a.m. (Monday)," the NDRRMC said in its 8 a.m. bulletin.