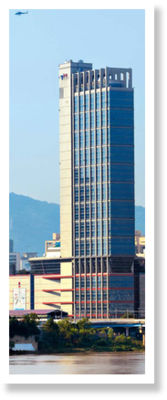 Some 500 tenants and shoppers fled to safety on Monday morning when the TechnoMart shopping mall in Seoul began to tremble for unknown reasons. The Gwangjin District office ordered all tenants to stay away for three days and began a precision safety check. The mall accommodates about 1,200 small electronic appliance shops, a large shopping center, a multiplex cinema, and restaurants.
Tremors
"The building rocked up and down right after 10 o'clock in the morning and I felt dizzy, so I rushed to the elevator with about 60 colleagues," said a 35-year-old woman who gave her surname as Lee and works on the 20th floor. The water in plastic bottles and leaves of potted plants shook visibly, she added.
A staffer of Prime Center, the property firm managing the mall, said, "Mild tremors occurred, but we regard them as temporary since there were no signs of further tremors."
The 39-story building complex was built based on an anti-earthquake design so that strong winds can shake the building from side to side.
According to tenants, tremors were felt mainly on floors 18 to 39. But some people on the seventh and ninth floors also said they felt tremors. "I thought it was an earthquake," said an office worker on the 22nd floor who gave his surname as Choi. "At the time, people who were walking fast or talking on the phone didn't feel the tremor, but nearly everyone who was sitting down did."