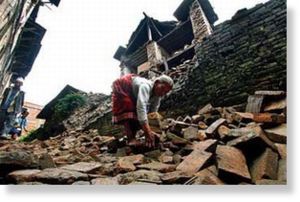 Bangalore -- The earthquake that rocked Sikkim Sunday is unusual in terms of its magnitude and nature of origin, say leading geologists.
"There is nothing surprising in this earthquake as the region north of Sikkim, which forms the outliers of Tibetan tectonics, is known for moderate earthquakes in the past," C.P. Rajendran at the Indian Institute of Science here told IANS.
But what makes it different is its "unusually greater magnitude".
These earthquakes are different in the sense they are along the somewhat north-south structures trending transverse to the east-west Himalayan axis, Rajendran said. They are different from the usual Himalayan thrust earthquakes that are caused by the collision of the Indian plate with the Eurasian plate.