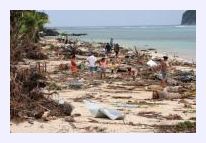 Wellington - The devastating tsunami which killed nearly 200 people in Samoa and Tonga last September was the
result of a rare double earthquake
and not one as previously believed, scientists said Wednesday.
Simultaneous earthquakes, with one hiding the other, are unusual "and almost certainly increased the size of the tsunami and its destructiveness on some Tongan islands," New Zealand's GNS Science said in a statement.
Global earthquake readings initially indicated a single large "normal faulting" quake of magnitude 8.0 had occurred, producing an extensional motion while the tsunami waves indicated a "thrust" event with compressional movement.
The scientists said they were unable to reconcile the conflicting data until six weeks after the event when measurements from a small Tongan island showed there must have been two large earthquakes.
Their findings appear this week as the cover story in the prestigious science publication
Nature.
"This is a rare phenomenon,"
lead author John Beavan, a geophysicist at GNS Science, said Wednesday.