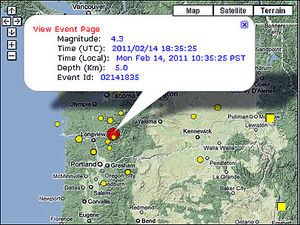 Portland, Oregon - Two earthquakes hit the Mount St. Helens area Monday morning, and one was strong enough to be felt in the Portland-Vancouver area.
KATU received many reports from viewers in the Portland area who said they felt the 10:35 a.m. temblor.
The initial quake measured 3.5 and was followed by a 2.5., but then the first quake was re-evaluated as a 4.3 - a fairly robust temblor. A 2.3 aftershock struck just before noon.
Quakes are now measured on a "magnitude scale" instead of the Richter Scale, according to KATU News Meteorologist Dave Salesky.