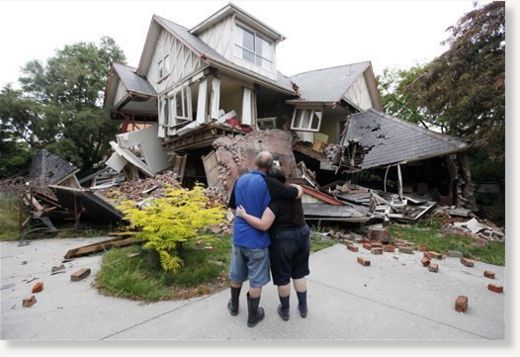 The neighborhood's toilet is a portable one out on Keller Street. The water supply is cut, making showers and clean laundry distant dreams. Resident stay fresh with bottles of hand sanitizer, and they're running low.
"Don't stand too close to anyone," Judy Prime said with a chuckle as she took a break from shoveling huge piles of wet sludge out of her garage in the shattered Christchurch suburb of Avonside.
The days since Tuesday's massive earthquake rumbled through Christchurch, killing at least 113 and toppling buildings, have brought a level of misery unusual for the residents of this modern city of 350,000. Water and power supplies to thousands have been cut, and many have been forced to sleep in their cars or tents as their unstable houses sway with the relentless aftershocks.
Many Christchurch residents first started getting used to some deprivation five months ago, when an earlier quake struck the city. Now, life is even worse.
Tuesday's temblor brought a fresh surge of water up through cracks in the yards of Prime and her neighbors along Keller Street. Most houses on the street suffered damage, and many will need to be demolished.
Prime, 66, has spent each night sleeping on a rubber mat under the dining room table, worried that aftershocks will send parts of her home crashing down. Every evening, she and her neighbors gather in her back yard to share beers and barbecue the meat from her freezer - still good, because it was encased in thick ice when the power went out.