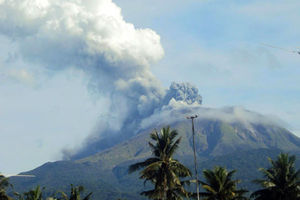 One volcanic earthquake and at least three rockfall incidents were recorded near restive Bulusan Volcano in Sorsogon in the last 24 hours, the Philippine Institute of Volcanology and Seismology said Friday.
In its 8 a.m. update, Phivolcs also noted weak steaming activity at the southeast thermal vent.
"Bulusan Volcano's status remains at Alert Level 1. This means that the source of activity is hydrothermal and shallow. Entry to the 4-kilometer radius Permanent Danger Zone (PDZ) is strictly prohibited, since the area is at risk to sudden steam and ash explosions," it said.
Citing the prevailing wind direction, Phivolcs reminded residents in the northwest and southwest sectors of the volcano to take precautions against ash falls.
It also said civil aviation authorities must warn pilots to avoid flying close to the volcano's summit as ejected ash and volcanic fragments from sudden explosions may be hazardous to aircraft.