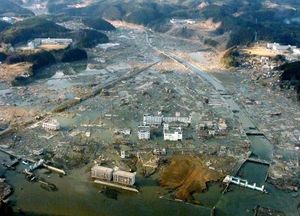 Tokyo - Overwhelmed by a still-growing catastrophe, Japanese authorities struggled Monday to reach buried survivors and the missing, faced roadblocks in delivering aid and raced to contain an expanding nuclear emergency.
Prime Minister Naoto Kan called the crisis the country's toughest challenge since World War II and said that decimated towns along the northeastern coastline were not yet getting the food and supplies they needed.
A series of unstable nuclear plants across the country threatened to compound the nation's difficulties, which started with Friday's double-barreled disasters: first an 8.9-magnitude earthquake, then a tsunami. At the Fukushima Daiichi nuclear plant, one containment building housing an overheated reactor had already exploded. A second explosion, about noon local time Monday, destroyed an outer building at another of the plant's reactors.
Officials said a third reactor at the six-reactor facility had lost its cooling capacity, and the U.S. Seventh Fleet, stationed 100 miles offshore, repositioned its ships and aircraft after some if its personnel came into contact with radioactive contamination.
With a government spokesman saying that the reactor units could be in partial meltdown, an alarmed public struggled to understand the safety implications of trace radiation leakage, even as the government said that public safety was not in danger.