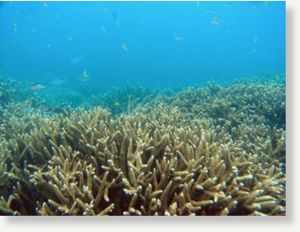 Australia's Barrier Reef district was rocked by an unusual 5.2-magnitude earthquake Saturday, but laid-back locals said they had barely felt a thing.
The tremor struck about 3.30pm local time (0530 GMT) about 124 kilometres southeast of Townsville at a depth of 10 kilometres, according to the United States Geological Survey.
A low rumbling was felt at Magnetic Island, a 20-minute ferry ride from the mainland and part of the Great Barrier Reef, according to a hotelier at the All Seasons resort, where it briefly interrupted a wedding on the beach.
"Some of the guests felt a bit of a shake, nothing much. It wasn't major, no-one fell over and nothing was damaged," she said.
"It was just like a shudder, my office backs onto the laundry and I said 'Oh, that was a big spin cycle.' It hasn't stopped the world up here.