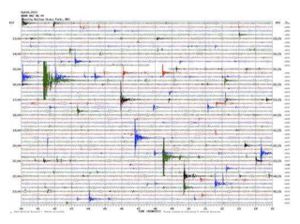 Greenbrier - Residents of the small north-central Arkansas town of Greenbrier said Monday they're unsettled by the fact that they never know if or when the next earthquake is going to strike, especially after being woken up by the largest quake to hit the state in decades.
The U.S. Geological Survey recorded the quake at 11 p.m. Sunday, centered beneath the ground about four miles northeast of Greenbrier. It was the largest of more than 800 quakes to strike the area since September in what is now being called the Guy-Greenbrier earthquake swarm.
"You don't know what to expect. It's unnerving," said Corinne Tarkington, an employee at a local flower and gift shop. "I woke up last night to the sound of my house shaking."
What woke Tarkington was a magnitude 4.7 earthquake -
the largest to hit the state in 35 years.
No injuries or major damage have been reported, but the escalation in the severity of quakes in and around the small north-central Arkansas town has many residents on edge. Some said they're seeing gradual damage to their homes, such as cracks in walls and driveways.
"We probably had 40 to 50 calls last night," Greenbrier police Sgt. Rick Woody said, noting that the tone of the calls had changed. After previous quakes, most callers simply wanted to find out if a loud noise they'd heard was an earthquake, he said.