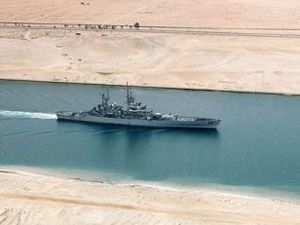 An earthquake measuring 5.9 on the Richter scale shook up residents at the entrance to the Suez Canal early Monday morning, 48 hours before two Iranian ships, a frigate and a supply vessel, are expected to enter the canal.
The National Institute for Astronomical and Geophysical Research reported that tremors from the 3 a.m. quake lasted for 27 minutes, but caused no damage.
The ships had originally been expected to enter the Suez today (Monday), but Egyptian officials announced the delay this morning, without explanation.
Iran inexplicably announced Sunday morning that two of its warships had crossed the Suez, a report that was thoroughly denied by Egyptian authorities. Iranian media did not mention the ships on Monday, and the false report may have been for local consumption.