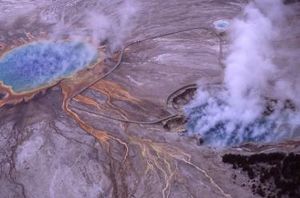 Two earthquakes of the same magnitude - 2.2 on the Richter scale - struck Yellowstone Park this week.
The first was at 9:34 pm Thursday, February 24, 48 miles east of Island Park. The next was at 5:04 am Friday, February 25, 32 miles east-northeast of Island Park.
According to the Yellowstone Volcano Observatory's January report, there were 57 earthquakes in the park in January this year. The largest was a magnitude 2.4 event on January 25 at 9:51 pm, about 6 miles north northwest of West Yellowstone. No earthquake swarms were noted in January 2011.
Analysis of the Yellowstone GPS data shows that the period of accelerated Yellowstone caldera uplift, beginning in 2004, has stopped. Some GPS stations exhibit little change and others reflect slight subsidence, according to the report.