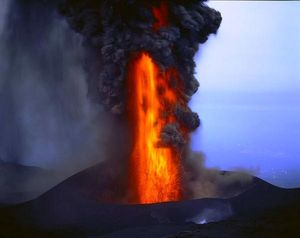 Rome - The eruption of the Etna volcano in southern Italy early Thursday is connected to the earthquakes that rocked the Spanish region of Murcia, killing 12 people and injuring more than 170 others, a seismology expert said Thursday.
"We are currently witnessing an intense seismic activity in the entire Mediterranean area from Spain all the way to Malta which has a certain impact on regional volcanoes," said Domenico Patane, director of the Sicily office of Italy s National Geophysics Institute.
Patane said volcanoes are like windows from where underground magma surfaces and it's normal that they respond to earthquakes occurring in a geographic proximity.
"The Spanish eastern coast hit by the quake, after all, lies close to Italy, in the Mediterranean. Both Spain and Sicily are on the same earth plate," he said.
The earthquakes in Spain on Wednesday, which could be felt in Madrid, reportedly had their epicenter near the towns of Lorca and Totana in the Murcia region. The initial tremor of 4.4 magnitude was followed by a quake of about 5.2 magnitude.