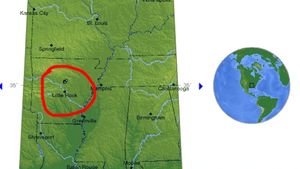 Jim Sutterfield was briefly puzzled by a thumping sound that seemed to slam the back of his office chair. But when the small-town Arkansas fire chief turned and saw no one was around, he quickly realized it was just an earthquake - again.
"That was only my second time to feel one, but others here have felt them for three or four months now," Greenbrier chief Jim Sutterfield said after feeling the latest tremor on Wednesday. "Now when it happens, people say, 'Well, there's another one.'"
Several small earthquakes ranging in magnitude from 1.8 to 3.8 have rattled the north-central Arkansas cities of Greenbrier and Guy this week, and the cause is unknown.
The U.S. Geological Survey has reported more than 30 earthquakes in the area since Sunday, including a magnitude 3.8 quake Thursday morning and at least 16 others occurring Wednesday, two of which were magnitude 3.2 and 3.5. More than 700 quakes have occurred in the region over the past six months.
Scott Ausbrooks, geohazards supervisor for the Arkansas Geological Survey, said the quakes are part of what is now called the Guy earthquake swarm - a series of mild earthquakes that have been occurring periodically since 2009. A similar swarm occurred in the early 1980s when a series of quakes hit Enola, Ark.