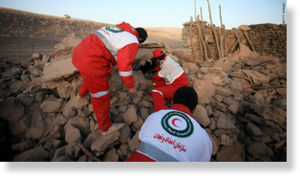 The death toll from a magnitude-6.5 earthquake in southeastern Iran rose to 7, with officials fearing that it will continue to climb, state-run Press TV said Tuesday.
Felt as far away as the Pakistan-Afghanistan border, the quake was particularly strong between the cities of Zahedan and Bam. It struck late at night and hardest in mostly rural, relatively sparsely populated areas of Kerman province, officials said. "Considering the dimensions of the damage, the death toll is expected to rise," the governor general of Kerman was quoted as saying by the IRNA news agency.
Citing eyewitnesses, another state-run news agency IRNA reported that scores of people are trapped in debris of buildings that have been destroyed. Many such sites are in hard-to-reach locations, making any rescue operations even more difficult. Additionally, at least seven aftershocks struck in the four hours since the 6.5-magnitude quake hit at 10:12 p.m. Monday night, according to the Iranian Seismological Center, based at the University of Tehran, and the U.S. Geological Survey.
Javad Kamali, a deputy governor for Kerman province, told the IRNA that the tremor knocked down phone lines throughout the region. Military and law enforcement workers could communicate only using wireless technology, he added. Relief and recovery teams, some from outside the area, have converged around the village of Hosseinabad, between the towns of Fahraj and Rigan, Kamali said.