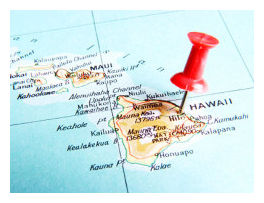 Honolulu - A small earthquake hit Hawaii on Thursday, with a jolt felt across Honolulu.
The U.S. Geological Survey said the magnitude 3.6 temblor struck at 2:12 p.m., about 12 miles deep in the Kaiwi Channel, between the islands of Oahu and Molokai.
There were no immediate reports of injuries or damage. No tsunami was generated.
The quake that lasted for several seconds shook homes and people throughout Oahu, from high-rise buildings in downtown Honolulu to the tourist district of Waikiki. People about 160 miles away on Maui reported feeling the quake, the USGS said.
Katrina Woodcock felt it while sitting at her desk on the 7th floor of a downtown Honolulu office building. The shaking lasted for about five seconds or so, and only one other person in her office noticed the earthquake, she said.
"I felt like it was shaking, and I was like, 'What is that, is our building falling?" she said.
Earthquakes are common in Hawaii with events occurring almost daily. Most are small and centered around the Big Island, where most of the state's seismic and volcanic activity takes place.