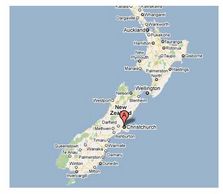 A 7.0 magnitude earthquake rocked New Zealand's second largest city Christchurch early Saturday, causing widespread damage including the collapse of some buildings and power outages, witnesses and the U.S. geological survey said. The Civil Defence ministry said the national crisis management centre had been activated. "We've had a wide range of reports of some serious damage," a civil defence spokesman said.
Although many people with minor injuries sought treatment, hospitals said there were no reports of any serious injuries although doctors were on standby because of the intensity of the quake and the damage to buildings.
The quake struck at a depth of 16.1 kilometres some 30 kilometres northwest of Christchurch at 4:35 a.m. (11:35 a.m. ET Friday), the USGS said.
Roads in the seaside suburbs were packed with cars as residents moved inland but there were no tsunami alerts issued. A swarm of aftershocks were ongoing and police said damage was widespread throughout Christchurch, with electricity supplies cut to about half of the city of about 340,000.
Sewer lines were damaged and residents were being urged to conserve water supplies. Local resident Colleen Simpson told the Stuff website that many people had run out onto the streets in fear, while the mobile phone network was failing.
"Oh my God. There is a row of shops completely demolished right in front of me," Simpson said. Kevin O'Hanlon, from Mairehau in Christchurch, said: "Just unbelievable. I was awake to go to work and then just heard this massive noise and, boom, it was like the house got hit. It just started shaking. I've never felt anything like it."