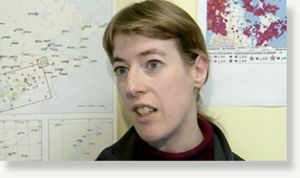 A 4.3-magnitude earthquake struck an area covering eastern Ontario and western Quebec Wednesday afternoon, with people from Ottawa to the Greater Montreal Region reporting that they felt the temblor.
Natural Resources Canada says the quake was centered in Hawkesbury, Ont. -- not Lachute, Que., as had earlier been reported. It struck at about 1:36 p.m. ET and lasted about 10 seconds.
There were no reports so far of any damage.
Viewers from across the region have been emailing CTV.ca to say they felt the earth shake beneath their feet. One reader sent an email to CTV News saying she felt a tremor in Ste-Adele, Ste-Anne de Lacs in the Laurentians. Another said she felt a "deep rumble" around 1:35 p.m. in Orleans, Ont., that lasted a "full minute."
Last summer, a 5.0-magnitude quake rattled Ontario, Quebec, and parts of the northeastern United States, sending some residents running into the streets. That quake's epicentre was about 56 kilometres northeast of Ottawa.
Just like last year's shaker, Wednesday's earthquake brought down the website for Earthquakes Canada as Canadians rushed to the site for information.