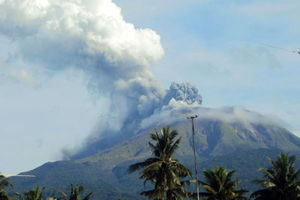 At least 13 volcanic quakes were recorded around restive Bulusan Volcano in Sorsogon in the last 24 hours, state volcanologists said Monday morning.
The Philippine Institute of Volcanology and Seismology said the quakes were "lahar-related" - a day after lahar flows affected water supply in parts of Sorsogon.
"Bulusan Volcano's seismic network recorded 13 lahar-related seismic signals during the past 24 hours. Steaming activity was not observed due to thick clouds covering the active vents and summit crater. Continuous heavy rain over Bulusan Volcano yesterday saturated loosely deposited ash and rock fragments and generated small lahar flows to roll down the slopes of the volcano then flowed along river channels," Phivolcs said on its website.
It said channel-confined lahar flows were observed along Cogon and Monbon river channels.
Other than that, it said no other significant volcanic activity was observed since the last ash explosion on Feb. 21.