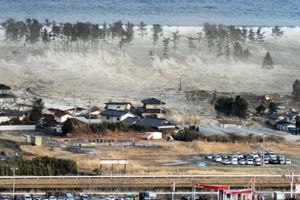 A powerful earthquake measuring 6.3 on the Richter scale has struck the coast of Honshu in eastern Japan.
The quake struck at 8:24 a.m. local time on Sunday (2324 GMT on Saturday), according to the US Geological Survey.
The epicenter was monitored at 37.9813 degrees north latitude and 141.8492 degrees east longitude, with a depth of 24.8 kilometers (14 miles), the Xinhua news agency reported.
The quake was followed by a 6.6-magnitude aftershock two minutes later.
Japan is still conducting rescue operations in the aftermath of Friday's 8.9-magnitude earthquake, which triggered a 23-foot (7-meter) tsunami and over 50 aftershocks, with many measuring more than 6.0 on the Richter scale.
There are concerns that the death toll from the catastrophic earthquake could exceed 1,800.