Printer Friendly Version
Back to Signs Supplements
Today's Signs Page
Signs Supplement - Strange Creatures
---
SAN JOSE, Calif. - The hairy beast of legend known as Bigfoot wanders through the mind of Yosemite killer Cary Stayner. It is a fixation that led to his beheading nature guide Joie Armstrong, a psychiatrist testified recently in Stayner's triple-murder trial. Two decades after he said he first saw the apelike creature near a cabin in Yosemite National Park, Stayner remains obsessed with Bigfoot in a religious or mystical way, said Dr. Jose Arturo Silva, an expert called as part of Stayner's insanity defense. "He literally thinks about this continually," Silva told jurors in Santa Clara Superior Court. "It's been going on for decades." Stayner first saw the hirsute humanoid in Foresta, near where Armstrong lived in a cabin, and continued to make pilgrimages to the site. On one of those visits, in July 1999, he killed Armstrong, Silva said. [...]
Reports of a giant winged creature seen in Southwest Alaska in recent weeks have biologists and residents puzzled. - No one doubts that people in the region west of Dillingham have seen a very large raptorlike bird. But biologists and other people familiar with big Alaska birds say they're skeptical it's that big. - Pilot John Bouker said he was highly skeptical of reports of "this great big eagle" that is two or three times the size of a bald eagle. "I didn't put any thought into it." But early this week while flying into Manokotak, Bouker, owner of Bristol Bay Air Service, looked out his left window and 1,000 feet away, saw a very big bird. "The people in the plane all saw him," Bouker said. "He's huge, he's huge, he's really, really big. You wouldn't want to have your children out," Bouker said. - Raptor specialist Phil Schemf in Juneau is skeptical of the size. "I'! m certainly not aware of anything with a 14-foot wingspan that's been alive for the last 100,000 years," Schemf said.
The tale of villagers seeing a giant eaglelike bird with a wingspan as long as a Dodge van brought dozens of e-mails from readers in Alaska and the Lower 48 and one from the Netherlands. - "There was a recent sighting of a giant raptor in the Coastal Bend region" of Texas, writes a woman from the Houston-Galveston area. "Don't let the scientists blow this off. It could be the biological discovery of the century." - Similar sightings have taken place apparently in Illinois, where a mother had to smack the giant bird so it would drop her child from its beak; Erie, Pa.; and Evanston, Wyo. A North Carolina author and other people said the bird could be the famed Thunderbird of Native American legend. - A man remembers an astonishing sight as he crossed the equator on a troop transport in 1944. "It was not a sea bird in any form," he writes. "I did some research just a few! years ago to try to determine what I had seen. I came onto some information on a flying animal called a Pteradon, which is of the Pteradactyl family. These animals are thought to be extict over 150,000 years ago."
- If You go down to the woods today, or into the hills, you may find Bigfoot alive and well and living in the wilds of northern Scotland. Geoff Lincoln, of British Hominid Research, claims there is a steady influx of reported sightings of the elusive beast throughout the UK, including several in the North. Described as 6-10ft tall with long arms, large feet and covered in hair, the beasts are frequently reported to have glowing eyes and a pungent odour, he added. He said there is now a "wealth of evidence" favouring the existence of the mysterious creatures, and there is a certain amount of logic that an "unknown species of hominid" could be living throughout the world. He said UK encounters were being reported with a "steady and unnerving regularity", despite the fear of being ridiculed.
- Strange sightings of a giant man-ape have been backed up by monster hunters in Northumberland. Professional yeti-hunters armed with thousands of pounds' worth of gadgets have homed in on Bolam Lake near Belsay after a string of encounters late at night. The four-man investigation team from the Exeter-based Centre for Fortean Zoology have returned to base after their week-long mission to investigate reports of a yeti-like creature roaming through the woods. Team leader Jonathan Downes said: "The expedition was a success beyond our wildest dreams. The most exciting thing was that five people I interviewed had seen the beast at the same time - I was one of those people." Mr Downes said: "What I saw was a dark, man-shaped object approximately seven-and-a-half feet tall. "It had a barrel chest and thick muscular arms and legs. I had a very clear sighting but I saw no glow! ing eyes and wasn't able to tell whether or not it was covered in hair." But the Bolam Lake Bigfoot is only the latest in a diary of sinister sightings of strange beasts that have baffled North East folk down the ages.
THE National Assembly is to call together representatives of all police forces in Wales to discuss claims that big cats are living and breeding in the countryside. Officials will consider the catalogue of 170 sightings reported to police in the past eight years and the numerous reports of animal kills, including countless sheep, several dogs and two horses. "Our wildlife experts are already working with police to collate all the data," said a National Assembly spokeswoman yesterday. "But so far our experts have concluded that the horses and sheep were killed by dogs, alleged big cat paw prints have proved to be dogs', and video and audio evidence sent to us have been foxes." The conclusions are in stark contrast to those reached by an American tracker who is certain that big cats are alive and breeding in Carmarthenshire. Tom Brown and Kevin Reeve of the New Jersey-bas! ed Tracker Inc say the cats are getting bolder and warn that a potentially fatal encounter is possible in the near future.
Those chupacabras are at it again in Puerto Rico; this time in the city of Fajardo. A 70-year-old man claims a giant falcon with a human face has killed two rabbits and attempted to drain the blood of a goat. Local police are still investigating the attacks.
The 31st Sheriff's Office at Rosario de la Frontera, kicked off an investigation into the truth behind the existence of a strange bipedal animal standing two meters tall, with a humanoid appearance, accused of having devoured medium and large-sized animals and of attacking an undetermined number of people in the forested area of Arroyo Salado, six kilometers east of the city. According to witnesses, the beast had a hairy body, large ears and eyes, powerful claws in its upper extremities, and issued deafening howls. "As an initial measure, we have started interviewing all those who claim having seen or had an encounter with this specimen," said the officer-in-charge of the delegation, Rene Humberto Tacacho. "We will later request instructions from higher authorities, since if we are faced with an unknown species, the most logical thing [to do] is to capture it alive for! subsequent study."

While new details about the case emerged yesterday, after first becoming known for two years ago, when a pair of lovers at Arroyo Salado claimed having been attacked by the unknown creature, Jose Exequiel Alvarez, the local fire chief and member of the "Juan Carlos Rivas" archaeological and paleontological group, made plaster casts of the prints found in the area and found the bony remains of a colt, eventually devoured by the beast. "The bones were examined by veterinarian Luis Calder-n, who confirmed they had been gnawed by an animal with sharp teeth, powerful jaws and sharp incisors which even perforated the horse's bones." Alvarez is preparing an expedition to capture the specimen. "The fact that El Tribuno is interested in the subject has changed people's attitude: they are now more inclined to talk, and I heard two astonishing stories: four young people who were attacked at Arroyo Saldo and two teenagers who saw it running along the river's edge, emitting deafe! ning howls. We must solve this scientific riddle somehow," he concluded.
Police in a town in Ecuador are investigating reports of a little, green man seen walking down the street. A number of Quininde residents called police after seeing what they described as a "gnome" in the town centre. They all described the creature as being very small, green and ugly. Marco Preciado told Diario Extra online: "It was less than three feet tall and I saw it three times. I tried to follow him but he disappeared." Cecilia Cedeno who owns a liquor shop, said: "He appeared in front of the shop to a group of people. He gave a loud laugh and run away." A police spokesperson said: "People are scared and fascinated by the story. We are investigating and we believe it is someone trying to make fun of the whole town."
Barbara Malloy, a Newport City [Vermont] resident and local historian, said this week she saw Memphre the Lake Memphremagog monster on May 1. Like Nessie in the Loch Ness of Scotland or Champ in Lake Champlain, Memphre is the stuff of local legend and history.
It's not the first sighting of the creature that many claim to have seen on this long international lake. Area newspapers like The Stanstead (Quebec) Journal have recorded sightings of something big and elusive in the lake as far back as the 1840s. On Jan. 21, 1847, an eyewitness reported this: "I am not aware whether it is generally known that a strange animal something of a sea serpent ... exists in Lake Memphremagog." [...]
Memphre is believed to look somewhat like a plesiosaur, a water-living dinosaur of the Jurassic period, brown or black in color, with four fins or paddle-like feet, an elongated roundish body and a long neck. It ranges from 6 to 50 feet long. Popular drawings or artwork show his skin color as green, but that obviously depends on the eyewitness.
Women in Maru, headquarters of Maru Local Government area of Zamfara have been forced to remain indoors in the evenings for fear of a strange creature which chases them.
The News Agency of Nigeria (NAN) learnt that the mysterious creature, said to be half human, half horse, usually appear in the early hours of the morning and in the evenings.
The appearance of the strange creature has crippled the socio-economic activities in the town, especially at night as people prefer to stay at home from 4 pm till morning.
The creature believed to have surfaced in different locations of the town is causing so much anxiety and fear among residents, particularly women.
When contacted to comment on the issue, one of the sons of Emir of Maru, Alhaji Isa Maru said the rumour was strong and "we are still trying to get to the root of it."
ALDER POINT, N.S. - Wallace Cartwright, a lobsterman from Cape Breton Island, has only reluctantly been telling his latest fish story. He says he saw a sea serpent.
"I was kind of leery of approaching it," he told CBC Radio. "God knows, the thing might have been able to jump out of the water, you know? And I'm sure it could have swallowed you whole."
In 30 years on the water, he'd never seen anything like it, and he's been hesitant to tell anyone.
But word got out about the creature he and his mate thought at first was a floating log. As the fishing boat got closer, Cartwright said, the animal raised its head.
"It had a head on it like a sea turtle, and it had a body like a snake … about as big around as a five-gallon bucket," he said.
Cartwright trailed the eight-metre-long creature for about 45 minutes – from a distance – before going back to fishing.
He might have been concerned that no one would believe his tale, but the curator of zoology at the Nova Scotia Museum says he thinks he knows what Cartwright saw – an oarfish.
Oarfish have only recently been documented, Andrew Hebda said, mostly in waters north of Great Britain.
"They can be up to 40 feet in length. They are long, they are thin, they are snakelike in appearance," he said.
If he's right, Hebda suspects the oarfish followed a cold ocean current to Cape Breton.
But Hebda says it's still possible Cartwright saw something different, something never seen before.
Chilean scientists were baffled on Tuesday by a huge, gelatinous sea creature found washed up on the southern Pacific coast and were seeking international help identifying the mystery specimen. [...]
Cat owners in Denver, Colorado have been warned to keep their pets at home after a number of mutilated cats were found dead in the area.
The eviscerated remains of four cats were found over the weekend, heightening fears that a cat killer may be on the loose.
The authorities say around 40 mutilated cats have been found in the Denver area over the past year.
There have been a string of similar cases in Salt Lake City, Utah, where 11 cats have been found been found mutilated - many with their heads or organs missing.
In the majority of cases in Denver the cats have been sliced open, often with surgical precision, and their internal organs removed. [...]
In May 2002, Carlos Cantero, a senator for the Renovación Nacional party in Chile's 2nd Region, requested a report from Francisco Segovia, governor of El Loa, to find out the information handled by official agencies in regard to the strange phenomenon that caused the deaths of hundreds of animals in the region.

Faced with this request, which was presented even in the form of an official letter, Segovia forwarded Ordinary Official Letter No. 367 to the parliamentarian, dated May 29th, in response to the senator's request.

The document clearly stated that the Investigation Police and then sub-prefect of the Criminal Investigations Brigade, Adalberto Rehbein, that "As per the foregoing, the provincial government is advised that no reliable information was ever secured regarding new animal deaths in this jurisdiction, with the exception of press reports which ascribe the deaths of animals in the area to some strange animal. The presence of such was not detected."
A FRONTIER town is divided over whether a mysterious creature roaming Cape York is a puma, a Tassie Tiger or a tree-climbing kangaroo.
Rumours of an introduced puma-like big cat living near Cooktown, north of Cairns, have persisted for decades.
Like the panther said to lurk in bushland outside Sydney, there have been many sightings but no proof.
Some believe pumas were secretly brought to north Queensland as mascots then left behind by American World War II solders.
There is an unrelated theory, held by renowned Cape York artist Percy Trezise, that the region is also home to a native marsupial wolf or thylacine. [...]
SANTIAGO, Chile (Reuters) - Scientists said on Wednesday a huge mass of slimy flesh that washed up on a Chilean beach last week may be a rare type of giant octopus or just discarded whale blubber. ...
BEIJING (Reuters) - China's legendary "Lake Tianchi Monster" has surfaced anew, with local officials reporting sightings of as many as 20 of the mysterious and unidentified creatures in a lake near North Korea. [...]
The fossilized remains of a long-necked, carnivorous sea reptile, which existed 150 million years ago, have been found in Loch Ness. [...]
SCIENTISTS have poured cold water on links between Nessie and a 150-million-year-old fossil found in the Ice Age loch.
The piece of fossilised backbone has been identified as belonging to a plesiosaur, the long-necked sea reptile from the Jurassic period which is most closely associated with Nessie - but suspicions have been raised that it may have been planted in Loch Ness much more recently than the last few million years.
Sedate residents of the La Palmilla sector of the peaceful commune of Rauco in the 6th Region were startled to find 29 hens with their legs in the air, completely exsanguinated and with twin holes on their necks. The peasantry was shocked at the find and without thinking twice, assigned blame to the now-legendary "Chupacabras" who had attacked again.

They had no doubts in their minds, because aside from the holes, the hens--which were all egg layers--were completly dry, as though some unknown beast had sucked their last drop of blood. Still trembling from their fear of the "Chupacabras" and concerned by the loss of the birds, the residents noted that the deaths had occurred simultaneously in two neighboring houses on Tuesday morning.
A TEAM of part-time explorers may have proved the existence of a Yeti-like creature on a tropical jungle island.
Tests by experts at Cambridge University and in Australia have shown that hairs and a footprint found by the Indiana Joneses from Stockport and Macclesfield do not belong to any known species.
WERNER Herzog, the legendary German film-maker, has begun an epic hunt for the Loch Ness monster.
Over the next month Herzog, 60, who is regarded as one of the greatest film-makers alive because of his attention to detail, will attempt to discover the real story behind the monster which is said to lurk in the hidden depths. [...]
'Selma', the elusive sea serpent of Seljord in Telemark, has again been spotted. The dog days of summer, which stretch from July 23 to August 23 have traditionally been days where the legendary beast has been spotted in Lake Seljord, newspaper Telemarksavisa reports. [...]
A BBC team says it has shown there is no such thing as the Loch Ness monster.
Using 600 separate sonar beams and satellite navigation technology to ensure that none of the loch was missed, the team surveyed the waters said to hide Scotland's legendary tourist attraction but found no trace of the monster. [...]
WINDSOR-GRAND FALLS, NFLD. - The alleged sighting of a mysterious creature has reignited talk of whether Newfoundland's Crescent Lake has its own version of the Loch Ness Monster.
Reports of "Cressie" sightings in the lake near Roberts Arm – about 150 kilometres northwest of St. John's on Notre Dame Bay – go back over half a century.
An Accidental discovery in the depths of Loch Ness could finally force the scientific community to acknowledge there could be a monster out there. [...]
BERLIN - A mysterious "horse ripper,'' who is suspected of killing some 40 horses in Germany, has slaughtered two more mares, authorities said on Tuesday. [...]
Tests by experts at Cambridge University and in Australia have shown hairs and a footprint found on an Indonesian expedition by Newcastle's Andrew Sanderson and two fellow explorers do not belong to any known species.
(CNN) -- From a remote region in the heart of Africa to a genetics lab at the Omaha Zoo, scientists are trying to find out if they have a new big ape on their hands.
"It doesn't look much like a gorilla, it doesn't look like a chimpanzee," said primatologist Shelly Williams, who captured a bit of video of the female mystery ape with a baby.
Pictures of the rare ape are scarce. Wildlife photographer Karl Amman, who was first to spot the mysterious mammals a few years ago, said the animal has feet that are about two inches bigger than the average gorilla and is more flat-faced than other apes. Its behavior also sets it apart from other apes, researchers say. [...]
So what could this animal be? [...]
Dublin doctor snaps photographic evidence of big cat on the loose...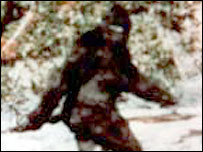 A forensic expert in the US believes he has some of the strongest evidence yet that the Bigfoot, or sasquatch, creature exists.
[...] Investigator Jimmy Chilcutt of the Conroe Police Department in Texas, who specialises in finger and footprints, has said he believes he is certain around six footprints found - claimed to have been made by Bigfoot - are genuine.
He added that one 42 cm (18-inch) print found in Washington in 1987 has convinced him.
"The unique thing about this cast is that it has dermal ridges - and the flow and texture matches the ridge flow texture of one from California," Mr Chilcutt told BBC World Service's Discovery programme.
"The ridges are about twice as thick as in a human being."
A reported sighting of a mysterious black panther in mid-Canterbury has raised the interest of the Ministry of Agriculture.
The Ministry is sending an investigation team to a South Island farm after witnesses reported seeing a prowling black cat. Truck driver Chad Stewart reported the sighting when he was delivering stock last Friday.
He is convinced it was a black panther, although the last one officially in New Zealand was years ago at Auckland Zoo. Amelia Pascoe from the Ministry of Agriculture is taking no chances.
"We do have to take the reports seriously. It was seen by somebody in daylight and was watched for some minutes, so we have to keep an open mind to all possibilities. We'll look for paw prints and panther poo," Pascoe said.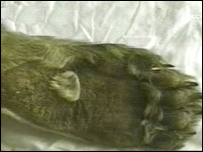 Mountain-climbers have discovered the mummified fragment of a leg of an unknown creature that lived several thousand years ago in Altai, Siberia.
The discovery was made at an altitude of 3,000 meters, local media reported. The scientists who x-rayed the discovery, established that it was several thousand years old and that the bones did not belong to any known animal.
Scientists from the Veterinary Academy and Altai Agrarian University think that it resembles a human leg. The position of the knee joint indicates that the being walked on two legs. The leg and foot are covered with red hair which indicates the creature moved on a soft surface, probably snow, the scientists say. The big toe consists of three phalanxes compared with the two that humans have.
The limb has been well preserved as the sun and air had mummified the muscle tissue.
The discovery continues to be examined. Scientists say it's early to attribute it to a yeti because this would require a DNA study. Besides, a European size 36 shoe would fit the discovered leg while yetis are believed to have exceptionally large feet.
PORTLAND, Maine (Wireless Flash) -- You've heard of the "Summer of Love" but this summer was the "Summer Of The Lake Monsters."
That's how cryptozoologists are referring to the Summer of 2003 thanks to the large number of lake monster sightings in places like Loch Ness in Scotland, Lake Champlain in Vermont and also China and Sweden.
Cryptozoologist Loren Coleman says there were about three times the usual number of sightings and figures that warmer, drier conditions made the lake monsters more active and easier to see. [...]
Two years ago, just past dawn in February, Rick Fisher was driving along a lonely stretch of Route 23 near Lancaster when he saw a strange creature.
It was about 5 feet tall, skinny, perhaps 80 pounds. It walked upright as if human.
"At first I thought it was just some guy in the middle of the road," he said. "From a distance it appeared to be a man dressed in black."
As he drew closer, he grew alarmed. [...]
[A] small but vociferous number of scientists remain undeterred. Risking ridicule from other academics, they propose that there's enough forensic evidence to warrant something that has never been done: a comprehensive, scientific study to determine if the legendary primate actually exists. [...]
In a neighborhood of area off South Cooper, residents say a mysterious creature on the prowl has grown larger, more violent and they're afraid its closing in on them.
"We are scared to come out at night." say Helyn Williams.
In the past few months, cats and all our dogs have been disappearing. Workers from the Shelby County Environmental Office didn't find anything when they combed the area Wednesday afternoon. But Helyn Williams knows something dangerous is out there, because she videotaped dead animals found mutilated along the railroad tracks.
No one has ever seen the creature but many have heard it. [...]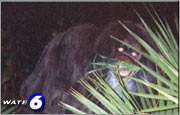 CAMPBELL COUNTY (WATE) -- The search for the so-called Campbell County skunk ape continues Tuesday, after a lab reported inconclusive test results. [...]
A documentary film featuring the 1955 invasion of "little green men" in the Christian County community of Kelly began filming this weekend in the Angeles National Forest just north of Los Angeles.
Barcon Video Productions, based in Glendale, Calif., filmed the dramatization of the local legend to include as part of a documentary entitled "Monsters of the UFO." [...]
BRIDGEWATER - Twenty-five years later, Joseph DeAndrade still gets a shiver when he recalls what he saw that winter day in 1978: ''A big, tall, strange-looking creature'' lumbering through the trees on the opposite side of a pond in the Hockomock Swamp.
''I've never seen anything like it,'' the former security guard said as he gazed across the still, murky water toward the spot.
DeAndrade's Bigfoot encounter may be the most widely publicized incident from the so-called Bridgewater Triangle. But it's far from the only one.
Over the decades and centuries, local residents have reported sightings of everything from UFOs and cattle mutilations to strange cats and birds within the triangle, which fans out from Abington to south of Taunton. [...]
There have been numerous sightings of a mysterious beast in the mountains of southeast Oklahoma. Now, a scientific team claims they have proof of the ape-like primate.
The first reported sighting was back in the 1800s. Since then, dozens of Oklahomans claim to have seen a strange ape-like creature. [...]
PICTISH stone-carvers may have been the first to capture Nessie's image, a Highland Council official has suggested.
[...] "What I saw in the video did not look that dangerous to me," he said, "but I don't know what it is. ... I just don't think we're dealing with a leopard or a jaguar. I don't know what it is. Maybe it's a cross of something that we've never seen." [...]
"It is a fun, new exhibit," said Graham Criglow, the facilities manager. "It is so controversial and I think that it is a fun way to get new people into the museum."
The exhibit includes a life-size replica of Bigfoot, photographs, footprint casts, films, books and newspaper articles.
The stories of Bigfoot have been around for years, and there have been reported sightings in all states of the union except Delaware and Hawaii.
"Everybody has a story, someone you know has a story," Criglow said. "I think that is what gets people in here."
The museum, despite the controversial topic, has circumstantial evidence that will make everyone think twice, Criglow said.
"At first, I was extremely skeptical, but after evaluating all the evidence, I realized that it is quite possible that it can exist," said junior biology major Ganiva Reyes. "After seeing the research they displayed, I began to think that it could be true." [...]
[...] An indigenous community in Yucatan has dedicated the last few days to try to hunt at night with shotguns the "huay keken" (diabolical depredator in Maya) which -according to their story- has cut into pieces their poultry, with the disbelief of the authorities. Abrisel Ek Baas, farmer and mother, slept in her house of metal roof when she heard noises on the back of her house. "The birds went wild. I was scared. It sounded like something big that walked on two feet", she says. The next morning, Abrisel found the birds, turkeys and chicken, destroyed and bitten.
[...] People say that the "huay keken" is a huge animal with legs of a horse, gray hairy body, female body from the waist up and makes a noise with a very high tone. From one of the communities, Chicxlub, the local sheriff Jorge Luis Aguilar said that every night the residents guard with weapons, and one of them described the beast as "a dog two meter high, with red eyes, that spits fire".
[...] The state secretary of Protection and Transit, Javier Medina Torre, urged people to remain calm because "while the beast doesn't exist, the hunting could cause someone getting shot and that would become a serious action". However, the rumour is still growing.[...]
While the presence of evil entities advances in Yucatan and motivates an atmosphere of terror among residents, the State Department of Protection and Transit [of Yucatan] warned this Wednesday that it will not allow and will even punish people who use weapons on their attempt to hunt these allegedly supernatural beings.
The reason is that for a second consecutive dawn the residentes of Texan Palomeque, in the municipality of Hunucma, did not sleep and armed themselves with the intention to kill a supposedly female werewolf, that in the last few days has created panic among the members of that and other communities in Yucatan, besides having destroyed hundreds of poultry and other domestic animals. [...]
[...]Scientists at the Smithsonian Institution agreed to examine the tape. The panel called Frew's tape "intriguing," and concluded that, "The usual explanations of partially submerged logs, a string of birds or marine animals, optical illusion, etc., seem inappropriate for the dark, elongated, animate object." [...]
DALLAS (Wireless Flash) -- A cryptozoologist has an explanation for why no one has been able to catch elusive creatures like the Loch Ness monster and Bigfoot: Because they're not of this earth.
Nick Redfern believes the monsters are not part of the physical world, but instead fall in the paranormal realm.
Redfern and two other researcher buddies took a six-week whirlwind tour of known sighting areas in England and questioned locals as well as tried to track down devil dogs, lake monsters and ape-men.
What they found is that many of the so-called sightings took place near ancient stone circles -- similar to Stonehenge -- which leads Redfern to conclude that they are part of the paranormal and can not be captured by physical means.
He theorizes cryptozoologists may have to develop new methods of research, similar to the way ghost hunters use infrared photos to detect haunts.
Redfern's exploration is detailed in his new book "Men Seeking Monsters" (Simon & Schuster).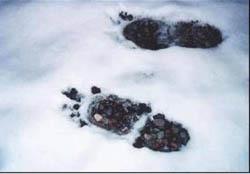 Stuart Caesar likes to hunt in the wilderness of upstate Pennsylvania.
And over the years, he's heard Native American legends of Bigfoot, the creature that roams the woods rustling sheep and deer, and sometime letting loose terrifying screams.
These sightings occur in remote places like Towanda and Wyalusing and Tioga.
But Caesar believes he has evidence that Bigfoot is stalking Levittown.
He snapped pictures to show doubters.
He says he's a Bigfoot skeptic. Still, he won't dismiss the creature's existence completely, mainly because of his eerie experiences while hunting...
Port Moresby - Authorities in Papua New Guinea ordered police to search part of a remote island after locals told of seeing a giant dinosaur-like creature roaming the area, local media reported Friday.
Villagers on the island of New Britain this week reported seeing a three-metre tall, grey-coloured beast with a head like a dog and a tail like a crocodile, The National newspaper recounted.
Christine Samei told reporters she saw the "dinosaur" early on Wednesday in a marsh just outside the provincial capital Kokopo on the eastern end of New Britain.
"I heard the people talking about it and went there to see for myself. Its very huge and ugly looking animal," Samei said.
A local ward councillor, Michael Tarawana, told the newspaper that villagers said the creature had been sighted by women on several occasions and had reportedly eaten three dogs.
On Thursday, six police officers armed with M-16 assault rifles and villagers carrying bush knives searched the marsh new Tinganavudu village but found no trace of the creature, The National said. The search was confirmed by government officials in the capital, Port Moresby. [...]
A file shot of earlier paw prints claimed to have been left by the "Blue Mountains panther".
Trackers of the so-called "Lithgow Lion" or "Blue Mountains Panther" claim to have further evidence of the creature's existence - a set of large paw prints.
There have been numerous unconfirmed sightings of the mysterious animal in the Blue Mountains area for many years.
Today, the chief of the Blue Mountains Big Cats Investigation Group, Rex Gilroy, claimed he has found new paw prints in a remote area of the Blue Mountains.
"We're dealing with a marsupial cat that from head to outstretched kangaroo-like tail - they've got a dog, yet cat-like head, their fur colour is brownish to black - but certainly they're anything up to two metres in length," Mr Gilroy told Sydney ABC radio.
Servicemen on night manoeuvres at a Cornish air base have reported sighting a large black puma-like animal.
They say they saw the creature in a series of separate sightings around the RAF station at St Mawgan.
Now motion detectors are being put around the base in a bid to track the animal and catch it on camera.
Witnesses, who did not wish to be identified, compared the cat's size with a fox that was in the field at the same time, saying it was "five times the length of the fox", with a head like a puma or panther.
The animal was observed for various lengths of time from different points around the airfield by personnel using night vision equipment.
Squadron Leader Dave Webster said: "We need to maintain the integrity of the sighting area so that zoologists can ascertain whether or not the creature was in transit or if it has become a more frequent visitor.
"The zoological specialists on site are keen to get on with the job of determining how often this creature has visited RAF St Mawgan."
Sqn Ldr Webster warned: "This is an active military installation, which is regularly patrolled and guarded.
"In the present security climate it would be extremely unwise for anyone to attempt to venture on to the base in an attempt to see if this creature is still here." [...]
The truth is out there for a group of amateur investigators who search for evidence of the existence of large apelike creatures roaming throughout western Pennsylvania. The creature known as Bigfoot is described as standing nearly 8 to 10 feet tall with footprints measuring 17 or more inches in length. It has been seen by hundreds of witnesses over the past 50 years.
Eric Altman, of Jeannette, hasn't had a sighting of the elusive creature, but he's heard unidentifiable sounds and tracked miles of large inhuman footprints in the woods of central and western Pennsylvania.
"In the summer of 2000, I was investigating a Bigfoot sighting in Bradford County when I heard growling, mumbling, raspy breathing and heavy footfalls in the woods," said Altman, who, along with his wife, Kathy, are the director and secretary, respectively, of the Pennsylvania Bigfoot Society. "In some sightings, people have reported hearing it sound like a woman screaming."
Denny Calisti, and his wife, Colleen, also of Jeannette, serve as the society's assistant director and treasurer, respectively, which the couples formed in 1998. Calisti became intrigued by all things paranormal as an 11-year-old boy growing up in the Export area. He was walking in the woods when he saw something large, standing on two feet that he couldn't identify. The Calistis also head the Pennsylvania Researchers Organization, which involves them in wildlife and scenic photography, paranormal investigations, archaeology, and cryptozoology.
"Some of the Bigfoot sounds from all over the U.S. were recorded and taken to university audiology departments," said Calisti. "Although some were identified, others couldn't be and researchers said the closest the unidentified sounds came to were primates."
Since the inception of the society, Altman and Calisti have collected about 500 sighting reports.
"We get about five sighting reports per week, with most being older sightings," said Altman. "We jump on recent sightings and go to the scenes and try to collect evidence."
They search for footprints, fur, and other tangible evidence, including animal carcasses, to prove or disprove the existence of Bigfoot.
"We don't know if Bigfoot exists or not," said Calisti. "I'd say we have a healthy skepticism."
"It's very black and white," Altman said. "There are people who completely disbelieve and those who are absolutely convinced that there is a Bigfoot. We don't know. That's why we go out and try to locate evidence whenever we get a sighting report." [...]
After five weeks without a reported sighting, a big cat apparently is on the prowl again in Lake County.
Tracks and other evidence have been examined and live traps have been set for what state authorities believe is a cougar that has taken up residence in an Antioch subdivision.
Lake County animal control received reports on April 7 and 13 of a large animal near Beach Grove Road. [...]
Wilms, an environmental science teacher and head tennis coach at Stevenson High School in Lincolnshire, said he began checking his yard after hearing the neighbor's description: a large animal with rounded black ears, black face and a very long black tail.
"The next day, I was out there with my kids. Sure enough there were a couple of big cat prints," he said.
Wilms got a first hand look at the elusive animal around dawn Wednesday.
"All of a sudden, this unmistakable cat pranced through," he said. "It's been here at least four times." [...]
Cougars were once common in Illinois, experts say, but there are none here now that are wild. Piotrowski noted that two of the reports were from Belvidere and Woodstock, putting into question exactly what people were seeing.
Authorities believed fresh water and the abundance of deer may have lured the animal and accounted for the sightings near the Des Plaines River. How it drifted about 15 miles from the Libertyville area to Antioch is a mystery.
"Why wouldn't the cougar stay in one area? How is it moving? Nobody knows," she said. [...]
A government watchdog has asked a regional council why it placed a mythical monster on Sweden's endangered species list.
The Parliamentary Ombudsman's office in Stockholm also asked the environment court in the Jaemtland province of central Sweden to explain why a businessman, who said he wanted to raise monster babies, was denied permission to search for its purported eggs.
"During a routine inspection of the environment court in Jaemtland recently, we came across a decision that attracted our interest," Parliamentary Ombudsman Nils-Olof Berggren told the AP on Monday. "It was the local environment court, as a superior instance to the regional council, that had turned down an application from a man who wanted to search for and hatch the monster's eggs, probably believing it was just a joke."
However, Berggren also found that there was an actual decision from 1986, placing the monster under protection.
"So far we decided to have a closer look at how the listing came about, and how it is applied. If a court decided that it cannot be applied, we want to find out if the monster really needs to be protected or if the decision can be scrapped," Berggren said [...]
GARDEN CITY -- Brian Hirschi may have doubted the existence of the legendary Bear Lake Monster when he purchased a pontoon-boat replica of the creature three years ago.
But all that changed one evening in the summer of 2002. After a long day of giving tours aboard the vessel, Hirschi was anchoring for the night a few hundred yards offshore when he had a haunting rendezvous with the slimy serpent.
Now, he's convinced that the scores of other eyewitness accounts of the monster, which date back to American Indian times, are true. And he shrugs off naysayers who suggest that the legendary creature is just a tall tale or marketing ploy.
"When you join the elite group of people who've seen it, you don't care what everybody else thinks," the 29-year-old Hirschi said Thursday.
That elite group reportedly includes LDS Church presidents Wilford Woodruff, Lorenzo Snow and Joseph F. Smith. Even Brigham Young is said to have once supplied a rope to a local resident who wanted to snare the creature.
If it is true that big cats haven't lived wild in the U.K. for 2,000 years, then, judging from the results of a new survey, a lot of large house cats now roam the British countryside.
Organized by British Big Cats Society (BBCS), the nationwide survey recorded 2,052 unconfirmed sightings of big cats in just 15 months, between January 2003 and March of this year.
The sighting counts averaged four each day. Two-thirds of the sightings involved large black animals resembling melanistic leopards, also known as panthers. If all these sightings had been confirmed, it would mean the U.K.'s leopard population now rivals that of the Kashmir region of the Indian subcontinent.
ASHEBORO, NC -- First of all, this is a real newspaper, not a grocery-store tabloid.
So, the story you're about to read is true.
Randolph County resident Bill Kurdian photographed this unidentified animal in his back yard May 20. Kurdian took the photo with a motion-sensing camera.
It starts with Bill and Gayle Kurdian throwing out dried corn for the wildlife in their neck of the woods in eastern Randolph County, and an odd-looking creature taking them up on their hospitality early last winter.
"What in the world?" Bill Kurdian asked himself when he saw the animal for the first time.
About the size of a fox, but with short brown hair and a long cat-like tail, it looked more like an animal in a National Geographic spread out of Africa than any critter native to the woods of central North Carolina.
He's seen the creature off and on since about Christmas, with it wandering up several nights in a row, then disappearing for awhile. [...]
"Everybody thought I was crazy," said Kurdian, the vice president of Matlab in Asheboro.
But Kurdian, an avid outdoorsman, got proof.
He captured the animal on two frames of film on May 20, using a motion-sensing camera that his wife gave him for Christmas. [...]
Kurdian called Guy Lichty, a curator of mammals at the North Carolina Zoo in Asheboro. But Lichty couldn't help based on just the description. So, as soon as he got his film developed, he couldn't wait to show it to Lichty. But Lichty and other curators were still unable to conclusively identify the animal. [...]
WHITEHORSE - A Sasquatch sighting has tongues wagging in the Yukon village of Teslin.
Two people say they saw the fabled bushman, also known as Bigfoot, cross the highway at the construction zone near the Teslin airport.
Marion Sheldon and Gus Jules were driving down the side of the highway on an all-terrain vehicle on Saturday evening.
They reported the sighting to Conservation Officer Dave Bakica.
"They claim they thought it was a person standing beside the road, but couldn't tell from all the dust," said Bakica.
"By the time they turned around to look back they said this person was completely covered in hair and took just two strides to get across the whole Alaska highway."
Bakica said the pair told him that by the time the got back to the location, the person or animal or thing had disappeared into the bush.
Teslin is 160 kilometres south of Whitehorse.
The conservation officer said he searched the area for tracks but they may have been wiped out by Saturday evening's rain.
Both witnesses appeared very shaken by the sighting.
Sheldon and Jules say they don't want to talk about the experience until they have consulted with local Teslin Tlingit elders.
For thousands of years sightings of the elusive, bipedal ape-man have been reported, throughout North America's Pacific northwest and as far away as China.
The creature has long featured in First Nation oral traditions.
Bigfoot believers, a small group of dedicated scientists among them, say the primate is likely the offspring of an ape from Asia that wandered to North America during the Ice Age.
Some believe there are at least 2,000 ape people walking upright in North America's woods today.
An adult male is estimated to stand at least 2.4 metres (8 feet) tall and weigh 360 kilograms or 800 pounds.
The hairy creatures are described as shy and nocturnal.
The Bigfoot Field Researchers Organization web site reports a sighting in south-central British Columbia, near Kamloops on May 17.
A resident said that while driving he saw what he believed to be a father and son Sasquatch near the side of the road, getting a drink of water.
The question of whether Napa Valley is big enough for two famous filmmakers may be tested soon -- on Halloween. That is the release date for a new film, titled "CABRAS," being made on location on Spring Mountain by 1997 St. Helena High School graduate, Fredy Polania.
The 26-year-old director plans to enter his low budget, all-volunteer cast, sci-fi film in the Sundance and the Cannes Film Festivals.
"We've been filming for nine months," Polania said. "I think it's a great film. It would probably cost a half million dollars to produce. We're making it for less than $30,000." [...]
The movie is based on a true incident, which took place near Flagstaff, Arizona in 1992. According to Polania, three young people were found murdered on a cotton ranch. They, along with a fourth companion, were returning to San Diego from a camping trip to Colorado. The body of a farm hand was also found at the scene.
The murders were never solved, according to Polania. The fourth camper, Jake Withers, has never been seen; and the farm owner, 60-year-old Stanley Payton, has also disappeared. Although the victims all had slashes on their necks and backs, there was no blood present, either in the bodies or on the ground.
Polania's guarded about the plot but it draws heavily from his influences. "It has to do with the chupacabra mysteries which first began in Puerto Rico and have spread to many parts of Latin America and the Southwest," he said. "I didn't want to use that as the title, because it might be too hard to pronounce, and people would think it was a Spanish movie, which it isn't."
Chupacabra means "goat sucker" in Spanish and is the subject of many monster stories. The chupacabra is a creature, either real or imagined, that has wreaked havoc on farm animals, and occasionally humans as well. It punctures and mutilates and then removes only the blood from its prey, leaving the corpse desiccated.
UFO Magazine claims it can cite more than 2,000 such incidents from Klamath Falls, Oregon, to South America, and even China. Most of them have been in Puerto Rico and Mexico.
UFO enthusiasts believe the creature was the product of genetic manipulations by human agencies. Allegedly a Chinese-Russian scientist by the name of Dr.Tsian Kanchen produced the strain. He was able to do this by picking up the bioenergetic field of the DNA of living organisms and transfer it electronically to other living organisms -- Whew!
Chupacabras are among the creatures called Anomalous Biological Entities, or ABEs. Although there are many variations, the consensus describes the chupacabra as a small, tailless dinosaur with quills down the back. It has the head of an alien, sharp claws, and carries a stench of sulfur. It has vampire tendencies as well.
"The farm worker was a husky, Vietnam veteran," and therefore not easy prey, Polania said. "So people believe it was some sort of strange animal. The fact there was no blood anywhere brought out the idea of the chupacabras. The mysterious disappearance of the farm owner and one of the campers adds to the mystery. The local police spent two weeks looking and found nothing."
How can the story miss? You even have a mad Chinese-Russian scientist. Now, all you need to do is link him up with Saddam Hussein, who planned on unleashing millions of chupacabras on unsuspecting Americans, while they wait in line to buy gas. Add warm, buttered popcorn, an R rating, and keep your eyes peeled on Halloween night.
Gardaí in Co. Monaghan are warning parents not to allow children outside without supervision, because of the threat of a large cat believed to be roaming the area.
The most recent sighting of the animal has been reported near a housing estate on the outskirts of Monaghan town.
The animal, believed to be a puma, has already mauled a calf and Gardai are concerned that a child could be next.
A large search for the puma is underway and an army marksman was drafted in yesterday in the hope that he could kill the animal.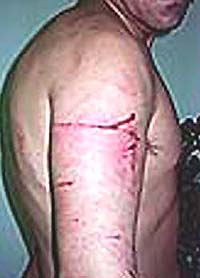 The "winged dogs" that attacked Juan Acuña, and the ones allegedly responsible for sheep and hen deaths, continue to spread fear in Parral.

PARRAL - The description given by Juan Acuña Perira, who was attacked by unknown animals he likens to "winged dogs", coincides remarkably with an image published by a Mexican newspaper [in 1996- translator's note], an image that has been circulated throughout the Internet and was neither denied nor classified as true by researchers of strange phenomena.

The peasant described the creature as an earless dog with shining eyes, and more telling yet, the bite he suffered on one of his feet clearly shows a triagular, three-fanged bite.

The deep scratches to his arms upon resisting the attack sunday morning are proof of claws as the ones shown [in the photograph of the strange creature]. The injuries were analyzed on Monday by experts of the Forensic Medical Service of Cauquenes at the request of the Parral D.A.'s office. Physicians concluded that Acuña was indeed attacked by an animal, but one belonging to an unknown species, as reported by EL CENTRO.

The peasant was attacked as he walked across a pasture near Canal Fiscal, close to Calle 2. He claims that two specimens attacked him, the smallest being the fiercest, and went for his throat. He brushed this one off with both arms, leaving deep scratches in his upper body which testified to what he told Carabineros [State Police] at the Reina Luisa barracks. He added that he then fell to the ground and was bitten in an ankle. He took off as best he could and jumped into the canal's waters, followed by the flying specimens, who hovered waiting for him to come out. He tried, but the strange creatures renewed their attacks until they finally desisted and the peasant was able to ask for help.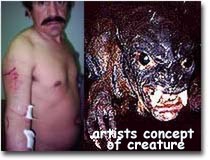 Juan Acuña claimed that the artists image of the "Chupacabras" is idential to the creatures that attacked him last week.
Juan's wife stated that he does not sleept at night, and when he is able to, he suffers nightmares and delirium. Sometimes he awakens shouting "They're attacking they're attacking!"
It is hoped that he can be helped by a specialist, but after the night that he was attacked Juan does not dare leave his house after dark, not even to go to the toilet. He spends all of his time accompanied by his brother or brother in law.
Blood Drained Dog
Juan Acuña told us that he found out from a friend that a blood drained dog had turned up dead in a field. When the owners opened the door of their house to see what was happening thier other dogs ran into the house and hid under the chairs. They were visbly shaken and did not want to leave the house
Diario EL CENTRO talked with Susana Soto Yáñez, the woman that gave first aid to Juan Acuña on the night he was attacked. The woman, who is the wife of teh victims brother in law remebered that the attack by the "critters" was at about 1am in the morning. Her relative (Juan Acuña) came running to her for help from the bridge along a bank of the canal, at this time she was asleep in her house.
Susana Soto niether undestood nor believed Juan's story that two flying dogs had attacked him After tending to Juan's injuries and giving him a change of clother, as he came to the house almost naked, she went out to look for a mobile phone to call an ambulance but was unable to do so.
She followed the same path that Juan had come along the bank of the canal towards the bridge and heard some strange noises but prayed to God and nothing happened to her. Since she was unable to find a phone she returned to her house and asked her husband, who had taken a few drinks, to try and get an ambulance Her husband went out and followed the same path as his wife had taken. On arriving at the bridge recounts Marcelo Alberto Gajardo, he was attacked on the foot by one of the "winged dogs".
He shouted and was able to shake the creature off. He stated that "it grabbed me by the foot and I pulled back, it was just as well I was wearing leather boots, there were two of them. They were small and they dissappeared, I didn't see if they were flying or not. If I hadn't shouted I would have died there, I don't doubt that for a second" he said.
A mystery animal is on the loose in Baltimore County and not even the experts can pin down what it is.
A Glyndon man found a way to secretly record the beast while it grazed in his yard. For a while it was just lurking in the woods watching the Wroe family until the Wroes started watching it.
Jay Wroe: "My truck was parked here, started getting in my truck. I kind of saw it there where the sunlight is and said what in the world is that?"
Jacob Wroe: "It looked so weird to me. I didn't know what it was."
Wanting to get a better look at the beast stalking his family, Jay Wroe put technology to work for him.
Jay Wroe: "The next day, I hooked up just portable motion detectors, and put them down back in the woods there."
The trap worked.
Jay Wroe: "Very bizarre. I went and got my father and cousin and they came and looked at it and their reactions were pretty much the same -- what in the world are we looking at?"
Pictures Of The Unusual Creature In Maryland
More than a month after the first sighting, the creature has become a neighborhood regular and showing up often.
Glyndon mystery creature
Kim Carlsen: "It comes to our house. It's been up in the woods for a while and it comes up through the bottom of our yard and eats our cat food."
Despite the fact it's lurking in these woods and no one knows when or where it will come out, no one here seems afraid of it.
Jacob Wroe: "I don't know, it doesn't look like it's going to harm anybody."
Even the other neighborhood animals like Bullwinkle the dog next door seem okay with the beast.
Kim Carlsen: "It's not afraid of the cats and the cats seem to get along with it fine."
The beast is not shy, and visits most often under bright sun. While no one here knows what it is, they do have a name for it -- the hyote, a combination of a hyena and a coyote.
A rancher in Elmendorf, southeast of San Antonio, found a strange creature attacking his livestock, and local animal experts say identifying it is a tough call.
Devin Macanally says he has lived on his ranch for 15 years and has never seen anything like it.
"It was eating mulberrys under a tree," he said.
It is a strange dog-looking creature with a blue color that he says began a killing spree. Devin first knew something was up when his chickens started disappearing. At one point, 35 were gone in just one day.
Macanally finally shot and killed the creature, and he was blown away at what he saw.
"First thing that came to my mind, is surely everybody's gonna think this is a chupacabra," he laughed. "But it's so odd because it has no hair."
At the nearby Deleon's Grocery and Market, customers come in to check out pictures of it. One woman says it is exactly how her grandmother described the dreaded chupacabra.
People at the San Antonio Zoo say they have not seen anything like it. Terry DeRosa with the zoo says at a feather-light 20 pounds, he thinks it might be a wild mexican dog.
"It may be one of the hairless dogs that perhaps you see in Mexico," he said.
Devin says he would like to know for sure. He says he is hoping someone can help identify it, possibly by DNA.
Is it a Chupacabra or not? WOAI.com is getting answers about a bizarre animal shot in Elmendorf.
Bones from a mystery animal shot by an Elmendorf rancher have been taken to an expert from the San Antonio Zoo. But can he tell what it is?
John Gramieri, the Mammal Curator at the San Antonio Zoo, doesn't think it's the Chupacabra. It's definitely unique, but he thinks it's a mix between a dog and a coyote.
Devin MacAnally shot the Elmendorph Beast after it ate dozens of his chickens. The animal has a blue-grey coloring, is almost hairless, has a short mane and large fangs.
"It's clearly a member of the dog family, a family candidate," explains Gramieri.
Gramieri says he can't tell what type of canine, but that it could be mixed with coyote that has very weird teeth.
"For whatever reason, this animal had a very poor fusion in the front here, so it allowed that lower jaw to spread in a way that is not normal for any mammal, actually," Gramieri told WOAI.
But what about the creature's color? A blue-grey hairless coat that's unlike any dog or coyote?
"It apparently had some very bad skin ailment," said Gramieri. "And that skin ailment made it go bald except for the top of its body."
So there's no Chubacabra endorsements from the San Antonio Zoo, but MacAnally continues to believe it's something extra special. He knows its one man's opinion versus his, so he'll wait for the DNA results due back in the next few weeks to find out exactly what it is.
"I want this one to be a new species - or at least something that somebody has never seen in a cross between two different ones," MacAnally said with a smile.
MacAnally says in the past few weeks he's gotten calls from other people claiming to have seen similar creatures around their properties. That's possible, according to the Gramieri. Gramieri believes that there are more out there.
WALES - No one knows for sure what creature it was that crept out of the darkness behind Leo Michaud's home and attacked his 16-year-old Doberman pinscher, ripping her head open. The Doberman, named Dutchess, had to be put down after the Aug. 12 mauling.
That day, Michaud found a den near Dutchess' doghouse that he believes was home to her attacker. A few nights later, he caught a glimpse of what he thinks was the attacker: a large animal, black, gray and brown with wild eyes and a bushy tail.
"The thing was right in the middle of the yard," said Michaud, 46.
The animal glowered for a moment and then ran off, disappearing into the den. Soon after, Michaud began looking at pictures of wild animals fitting that description.
He hit upon a suspect: "It looked like a wolverine," he said.
Experts, however, say that's unlikely. Wolverines are known to thrive in Canada, but not Maine. And while they are known to scrap with larger animals, a wolverine going toe-to-toe with a Doberman would be extremely unusual.
A couple of weeks ago, a Doberman pinscher was mauled by something nobody has been able to identify. It's surely not a wolverine, say the wildlife experts. We don't have them here. It's probably a fisher, the same experts say. Those buggers can be pretty mean.
A fisher? Ha! So say more than a half-dozen people who have contacted me. "There's been talk of a strange animal out here for years," said Steve Theberge, who lives in the Wales area. "They say it stands about 4 feet tall. I hear it's a pretty strange-looking creature."
Theberge is not making this up. His father-in-law has seen the creature. His son has seen it and his wife had an up-close look six years ago.
"This thing, it just hopped over the road and then it stood there," said Brenda Theberge. "It was tan and gray and it had these weird eyes. It was sunset and those eyes were just glowing."
It had the physical characteristics of a hyena, she said. It stood maybe 4 feet tall and it stared with those glowing eyes in a most menacing way. It was almost hairless.
"It was definitely scary to look at," Brenda said. "It was like the size of a pony."
For all his fascination with the creature, Steve has never seen it himself. But he says he was treated to the chilling scream of the beast just a short time ago. It sounded like a baby at first, then the creature began to growl and it was like no sound Theberge had ever heard.
Shortly after hearing the spine-tingling scream, Steve found tracks through dirt and mud in his yard. The tracks were bigger than his hand and bore the imprints of three claws.
"I've spent a lot of time in the Maine woods," Theberge said. "I've never seen a track like that."
When confronted with something that seems alien in the familiar surroundings of our homes, a primitive chill crawls up the spine. As evolved humans, we are at once terrified and fascinated by the unknown. We are a superior species, we reason, and thus we have control over our wildlife.
So when Leo Michaud reported that something had crept from the woods behind his Wales home and killed his Doberman pinscher, wildlife experts nodded knowingly. It was a fisher, they said. A small but vicious animal with a nasty reputation in the Maine woods. It was certainly not some exotic beast that crept down from
the mountains.
Calls and letters about the mystery creature have been coming in since a story about the Doberman appeared in the paper. Almost nobody believes the ferocious,
but relatively wee fisher, is responsible for the attack. The mystery creature of the Wales woods is the No. 1 suspect.
I know what you're thinking. You live in Lewiston where the only wildlife to be seen is in the downtown area, right? You scoff. You mock. You laugh until coffee comes out your nose and hum the theme from "Deliverance."
Don't get too comfortable just yet, naysayer. A letter-writer named Jamie Tapley tells me he has twice seen a large, fearsome creature in his Sabattus Road yard. He reported the sighting and a Maine Game Warden called him back. The Warden's guess? It was a fisher.
"I researched fishers online and this thing is bigger than a fisher," Jamie said. "This thing is nearly as tall as my collie."
Earlier this week, I was talking to Animal Control Officer Wendell Strout about a completely unrelated matter. I happened to mention what I was hearing about this mystery creature. Strout turned quiet a moment. As it happened, he had received a call earlier that day from a woman on Old Greene Road in Lewiston. The woman had seen a strange creature near the power lines by her home. The critter was at least 18 inches high with a long tail and she wanted to know what it was.
"She drew me a picture," Strout said. "It didn't look like anything I've seen before."
The number of reports alone is enough evidence for me. I'm thinking I should take a week off, pitch my tent in the Wales woods and wait for an encounter with this mystery beast. Sooner or later, it would find me. If the creature were really mean, I might not be back. But I'm pretty sure I know what it would say in a news story about the tragedy.
"It looks like LaFlamme was eaten," said wildlife experts. "It was probably a fisher."
Mysterious creatures were seen by numerous witnesses in an area near the city of Coquimbo, Chile. According to their reports, they resemble small humans that float through the air without making a sound.
Francisco Vega, a laborer at the "El Pelambre" mine, was in the company of his brother and two other laborers of the Argandoña ceramics company in the Planicie de Panul sector, a location adjacent to La Herradura de Coquimbo, where he owns a plot of property whose borders required demarcation.
At a distance of some 20 meters, Francisco witnessed what appeared to be a small "monkey" that was approaching them, walking along the plain. Upon looking at it closely, he saw that it was a human-like creature, but red in color.
"It had a very bulky head, was no taller than 80 centimeters and looked like a gas bag, because it was so fat. My initial impression was that it resembled a rugby player," said the witness, according to the Chilean press.
"Only a few seconds went by and I shouted very loud son that my brother and the workers would realize what I was looking at," he added.
The surpriese among experienced by the four men was even more complex when they noticed the strange being levitate over the plain, remaining in the air for several minutes.
Later, they said the creature began heading toward the sea at low speed, finally vanishing. The event occured in July of this year.
A similar event befell a group of five youths who were spending the night at that lookout point. They saw strange entities emerge from the sea, gradually coming closer.
They were unable to make out any details at first, but later added that they were diminutive humanoids surrounded by something like an aura of light. After remaining motionless in mid-air, the beings began to disappear.
The entire group was able to see these strange entities, and all members coincided in their descriptions and the details of the visitors that emerged from the sea.
Translation (c) Scott Corrales, Institute of Hispanic Ufology (IHU). Special thanks to Alicia Rossi and Liliana Núnez.
McALLEN - For decades, bird lovers have flocked to the Rio Grande Valley to see a large variety of their feathered friends. But in 1976, hunters scoured the area trying to win a reward for the capture of a creature which became known to residents here as Big Bird. For about two months in the mid-1970s, Big Bird - not the friendly tall, yellow bird that loves children on Sesame Street - terrorized Valley residents.
The 5-foot-tall bird was described as "horrible-looking," according to The Monitor's archives. Its wings were large enough to be folded over its body and it had large, dark red eyes attached to a gray, gorilla-like face. Its head was bald and it made a loud, shrill sound through its 6-inch-long beak.
Tom Waldon claimed to have found its tracks on Jan. 2, 1976, near his home in Harlingen. The three-toed tracks measured 8 inches across and pressed an inch and a half into the ground.
Three teachers from San Antonio claimed to have seen Big Bird in that city as well, on Feb. 24, 1976. The trio later pointed to a picture in a book of a pteranodon, an extinct giant flying reptile, as being most like what they had seen. Some bird experts told area residents that the bird was a lost condor or a jabiru, a large Central American stork which can boast a 10-foot wing span, big tracks and a featherless head. The jabiru has a breeding ground about 250 miles south of McAllen, near Tampico, Mexico, experts pointed out. But just as mysteriously as it arrived, Big Bird seemed to disappear overnight. But for some Valley residents, what exactly the Big Bird was is still a mystery.
THE FIRST SIGHTINGS
The Big Bird sighting thought to be the first was Jan 1, 1976, when Tracey Lawson, then age 11, and her cousin Jackie Davies, then 14, were playing in Lawson's back yard near Harlingen.
The two girls say they saw the bird standing about 100 yards away on an irrigation canal, according to the Atlas of the Mysterious in North America.
Lawson went inside to get her binoculars, and when she returned, she saw the bird staring back at her.
Big Bird was more than 5 feet tall, she said, and when she and Davies ran inside to tell her parents, the adults did not believe them.
On Jan. 8, 1976, The Brownsville Herald and the Valley Morning Star ran a piece that told the story of Alverico Guajardo and a strange "birdlike" creature which he claimed to have seen outside his home one day earlier.
"I was scared," Guajardo said at the time. "It's got wings like a bird, but it's not a bird. That animal is not of this world."
Guajardo said Big Bird had large wings but it never flew while in his presence. Its eyes were as big as silver dollars and its long, skinny beak was three or four feet long, he said.
It made a terrible noise, and although the sounds seemed to come from the creature's throat, which pulsated as it made the noise and its beak never moved, Guajardo said.
The Brownsville Herald article indicated that reports of the large bird began shortly after a number of cattle mutilations made the news in Cameron County, but there was no proof that the bird had caused the strange mutilations.
GROWING LEGEND, GROWING FEAR
As more sightings of Big Bird were reported, its legend grew. One Valley radio station offered a reward of $1,000 for the capture of the bird, archives show. [...]
The sightings of Big Bird were reported from every type of person, including two San Benito police officers.
Patrolmen Arturo Padilla and Homero Galvan, traveling in separate police cars, reported seeing a huge bird with a 15-foot wing span gliding through the air.
"It's more or less like a stork or pelican-type of bird," Padilla said. "I've done a lot of hunting, but I've never seen anything like it."
Padilla said the bird had a wingspan of about 15 feet. He said he was willing to shoot it if he saw it again.

Big Bird was sighted along the river near Laredo as well, by Arturo Rodriguez and his nephew Ricardo, as they were fishing on the banks of the Rio Grande, newspaper archives show.
Television footage showing three-toed footprints, measuring 9 inches by 12 inches, and believed to have been left by Big Bird, fed the fear felt by area residents.
When one eyewitness said he believed the bird was large enough to easily scoop up a small child off the ground, parents began to keep their children indoors, instead of allowing them to venture outside to play.
Fear took a tighter grip on the Valley after Jan. 15, 1976, when a Raymondville man told police officers he was attacked by the bird.
"I felt some wind and looked up and this big bird attacked me," said Raymondville resident Armando Grimaldo, who was 26 years old at the time.
Grimaldo's neighbors found him in his back yard shaking and screaming, and reported that his shirt and jacket were torn.
A man from Eagle Pass said he was attacked as well, archives show.
Francisco Magallanez's claim that he was attacked was given some credibility by law enforcement officials, who said Magallanez had marks on his shoulders. His physician, Dr. Arturo Bates, told police the marks were made by some type of animal or bird. [...]
URBAN LEGEND
Big Bird became larger than life when the tales about it were told over and over.
Some of the stories can be found in the Special Collections Department in the library of the University of Texas-Pan American.
For years, UTPA students have been asked to write down what they know about local legends, and Big Bird has always been a favorite. Because the students never intended for their stories to be published, The Monitor will not print their full names.
Javier, 27, of Rio Grande City recalled the story which connected Big Bird to the mysterious cattle mutilations.
"It's a true story that happened in Starr County in the early 1980s," Javier wrote. "There were reports of the bird killing cattle because the ranchers were finding cattle mutilated and drained of their blood.
"There was no explanation and people were shocked because the cattle were supposedly mutilated using surgical instruments and there were no tire tracks or foot prints near the dead cattle," Javier wrote. "After the bird disappeared, there were no more reports of mutilated cattle."
A 49-year-old man from Olmito, who withheld his name from the report given to a UTPA student named Yadira, said he had proof the bird attacked him.
"He left a bar a little late and was about to get in his car when he was attacked by a giant bird," Yadira wrote. "It cut him up, so when he got home his wife bandaged him up.
"He told her the story but she didn't believe him," Yadira wrote. "The next day the wife used his car and found bird feathers on the seat and the floorboard."
Another UTPA student, Esequiel, said he was in sixth grade at a Pharr elementary when he saw the bird for himself. His story is also in the library collection.
"We were at recess and saw a huge bird-like object in the sky," Esequiel wrote. "My friend and I were the only ones who saw it, even though there were a lot of students playing outside. "We told a teacher about it and she said it was probably an unexplained event like a UFO or something," Esequiel wrote. [...]
Readers who wish to know more about who we are and what we do may visit our portal site Cassiopaea.org
---
Remember, we need your help to collect information on what is going on in your part of the world!
We also need help to keep the Signs of the Times online.
---
Send your comments and article suggestions to us

---
Fair Use Policy
Contact Webmaster at signs-of-the-times.org
Cassiopaean materials Copyright ©1994-2014 Arkadiusz Jadczyk and Laura Knight-Jadczyk. All rights reserved. "Cassiopaea, Cassiopaean, Cassiopaeans," is a registered trademark of Arkadiusz Jadczyk and Laura Knight-Jadczyk.
Letters addressed to Cassiopaea, Quantum Future School, Ark or Laura, become the property of Arkadiusz Jadczyk and Laura Knight-Jadczyk
Republication and re-dissemination of our copyrighted material in any manner is expressly prohibited without prior written consent.