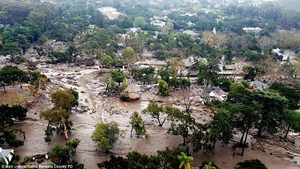 9 January 2018: Mudflows cause at least 20 deaths in Montecito, California
People convince themselves of their own lies, becoming victims of their own inventions as they begin to direct their lives by standards of behavior, ideas, feelings, or instincts which do not correspond to their inner reality. What is truly serious in this matter is that the individual loses all points of reference regarding what comprises truth, and what comprises lies. He becomes used to considering as true only that which is convenient for his personal interests; everything that is in opposition to his self-esteem or in conflict with already established prejudices, he considers false.
- John Baines
Recent Comments
It is interesting if not surprising that the US continues to lift the specter of war on the Korean peninsula, just when North and South Korea are...
---
[Link] The Russians are hacking the asteroid to ensure it hits Washington, DC. In fact they are aiming it at the toilets in the Capitol Building....
---
Scenario: 2:00 a.m..... Bloodcurdling screams from the kid's room!! Horror!! Terror!! Mom and Dad leap out of bed and rush into little Suzy's...
---
My next-door neighbor this morning said to me "Good morning!" I have reported him to the FBI and Homeland Security, because once I saw a video of...
---
Crimea is Russia, Love from Boston, Massachusetts