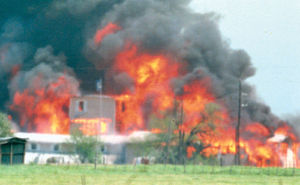 Today is
April 19th
. Today is the 20th anniversary of the dreadful end of the
Waco Siege and Massacre
, when Janet Reno and Bill Clinton
cleared Federal agents
to set fire to the Branch Davidians' compound in Waco, Texas, killing all 76 men, women and children inside.
Today is also the 18th anniversary of the
Oklahoma City bombing
, when the Alfred P. Murrah Federal building in downtown Oklahoma City was blown up, killing 168 people. The blast was so powerful that 324 buildings within a sixteen-block radius were destroyed or damaged, 86 cars were burned, and glass shattered in 258 nearby buildings. Timothy McVeigh was sentenced to death for his role in the attack, although how a 'truck bomb loaded with fertilizer' caused so much damage remains a mystery. We were told he did it to avenge the Waco massacre and oppose the Federal Government's 'gun control measures'. The Oklahoma City Bombing went down in history as a case of 'domestic terrorism' by wannabe revolutionaries, but everyone ought to know by now that that was
a 'Noble' Lie
.
Four days ago on April 15th 2013, Tax Day in the U.S., someone
set off two shrapnel bombs
at the Boston Marathon. The resulting carnage is identical to that seen in Baghdad day in, day out for 10 years. The
Boston Tea Party
was a key turning point in the growth of the American revolutionary movement. The annual Marathon is always held on the third Monday in April -
Patriots' Day
- a public holiday in Northeastern U.S. states to commemorate the opening battles of the American Revolutionary War - the Battles of Lexington and Concord - on
April 19th
, 1775.