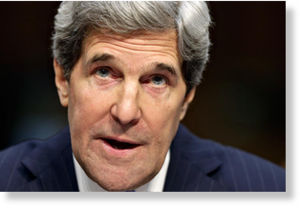 Psycho war monger John Kerry has been trying to con the world, yet again, into supporting an attack on some dark-skinned people 'oceans away'. As I watched his speech a few days ago, I had lots of things I wanted to say in response. Sadly however, I wasn't invited to attend the event. So I've written my responses here, for the only people who actually matter in this world, i.e. not John Kerry or his coterie of psychopathic masters and servants. Of which there are many. Too many.
President Obama has spent many days now consulting with Congress and talking with leaders around the world about the situation in Syria.

And last night the president asked all of us on his national security team to consult with the leaders of Congress, as well, including the leadership of the congressional national security committees. And he asked us to consult about what we know regarding the horrific chemical weapons attack in the Damascus suburbs last week.

I will tell you that as someone who spent nearly three decades in the United States Congress, I know that that consultation is the right way for a president to approach a decision of when and how and if to use military force. And it's important to ask the tough questions and get the tough answers before taking action, not just afterward.
Yeah good point Johnny boy, "
fixing the facts around the policy
" in 2002/3 didn't work out too well huh? And it's creating a bit of a problem for the effort to fool the rabble yet again with the same old unimaginative, emotionally-charged lies.