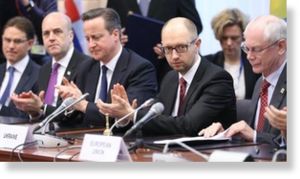 I don't understand the Ukrainian 'revolution'.
Before the Ukrainian protests kicked off last October, a general election was scheduled for 2015. As the protests grew and intensified, the
elected
Ukrainian president, Victor Yanukovych, agreed to bring elections forward to this year and to implement a host of measures, including reverting to the 2004 constitution, which drastically reduced Presidential power.
On paper, these changes met the vast majority of protestors' demands, and promised a new government this year, via elections. Yet just as this agreement was being signed, the violence in Kiev flared and 100 people, including policemen, were shot dead...
by someone
.