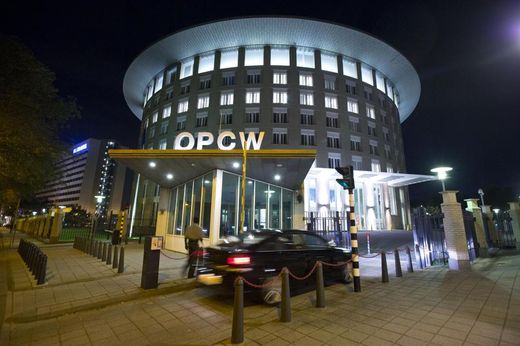 I narrowly avoided spilling tea all over my keyboard this morning when I read that this year's Nobel 'Peace' Prize has been awarded to international 'chemical weapons watchdog', the Organisation for the Prohibition of Chemical Weapons
.
Forgive my cynicism, but after Warmonger-in-Chief Obama was awarded the gong in 2009, and the duplicitous EU last year, it seems pretty clear to me that the selection of this year's winner is once again a political statement
in favour of
war-making.
Neither Syria nor the OPCW's work with UN inspectors in Syria is mentioned in the Nobel Committee's press release. In fact, the U.S. and Russia are
singled out
for their failure to comply with treaty obligations. Rest assured, however, that CNN and the rest of the lamestream media is making hay out of this to refocus international attention on the U.S.-led agenda for shock and awe in Syria:
CNN
Fri October 11, 2013

The Nobel Peace Prize has turned the global spotlight back on the conflict in Syria.

The prize committee in Oslo, Norway, awarded it Friday to the international chemical weapons watchdog helping to eliminate the Syrian army's stockpiles of poison gas, the Organisation for the Prohibition of Chemical Weapons (OPCW).

Its inspectors have just begun with that work in the active war zone, and the Norwegian Nobel Committee awarded them the prize in support of the arduous and life-threatening task that lies ahead of them.