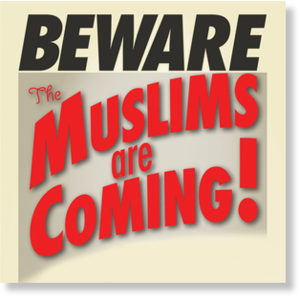 From the humble beginnings that launched the war on Muslim terrorism on the basis of "they hate us because of our freedoms" and therefore, we must "fight them over there so we don't have to fight them over here", Western peoples are now faced with an existential threat and required to choose a 'side' or be damned to the ninth circle of hell, reserved for those who remain neutral in a time of crisis. The options from which we must all choose are fairly straightforward: broadly speaking, you can be 'left' or 'right' - or a libtard or a fascist, if you prefer.
Right-wingers (implicitly or explicitly) argue that:
a) Islam as a religion and social and legal code is totally incompatible with Western values (except for the misogyny and homophobia part). Or to use the words of Oklahoma state legislator John Bennett, "Islam is not even a religion; it is a social, political system that uses a deity to advance its agenda of global conquest."
b) Migration from Muslim-majority countries is therefore bad for Europe.
c) The white race and culture are under threat from mass migration of dark-skinned people from Muslim-majority countries (and the jihadis allegedly ensconced among them). The migrants must be stopped and the white race and culture actively defended lest both sink beneath the waves of mandated multi-cultural jihadi marxism.