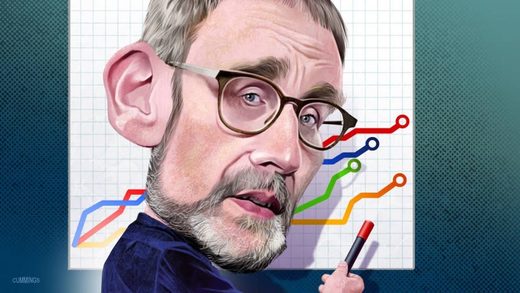 He's
Neil Ferguson
: the ghost in the machine.
Why do governments salute when he predicts a pandemic and tells them to lock down their countries?
Does anyone care about his past?
Why does he still have a prestigious job?
Who is he connected to?
Let me briefly clear away a bit of refuse and garbage. You can read articles about how computer predictions aren't really meant to be precise, about how the COVID model to which the US and UK and other nations are surrendering has been walked back, or hasn't been walked back.
The essence of these articles is nonsense. Why?
Because governments are obeying a model. They're obeying the highest number-projections of deaths
...and that is the devastating point.
Neil Ferguson, through his institute at London's Imperial College, can call the shots on a major percentage of the global population.
He's Mr. Genius, when it comes to projecting computer models of epidemics.
Fellow experts puff up his reputation.
According to the Business Insider (4/25)
:
"Ferguson's team warned Boris Johnson that the quest for 'herd immunity' [letting people live their lives out in the open in the UK] could cost 510,000 lives, prompting an abrupt U-turn [massive national lockdown in the UK]...His simulations have been influential in other countries as well, cited by authorities in the US, Germany, and France."
Not only cited, not only influential, but swallowed whole.