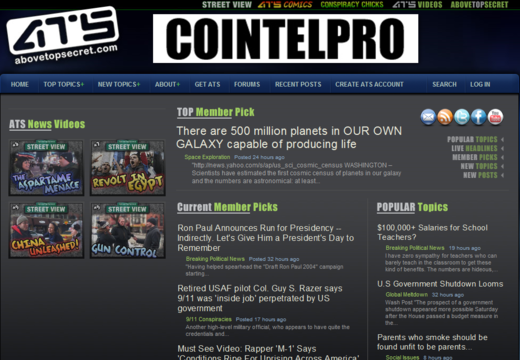 Despite its claims about ETHICS, the bottom line is that Abovetopsecret.com is its own Google Bomb. ATS is an example of everything self-serving in our current reality - it is a microcosm of the Free market system, of corrupt government, democracy, business, almost everything that is wrong with this reality; all this is expressed in how abovetopsecret.com operates.
If the site is not directly handled by COINTELPRO, if the Abovetopsecret.com "Amigos" are not conscious COINTELPRO agents, then they are by default; it serves the same purpose because the infection of pathological elements reigns supreme there.
The 3 Amigos (Owners) manipulate everything about this site. They have figured out a way to manipulate google (that is why they put a thread link called "CoIntelPro" in the banner of every thread page, to push any search results for cointelpro and abovetopsecret deep into the google search pages behind them).
They do much behind closed doors but they show their arrogance freely throughout the site. They push their rules right and left, but they, as owners and moderators break them freely and regularly, seemingly as they please.
In short, it is all one giant marketing manipulation and the owners do not give a flip about the members or what is actually produced as a public consumable, so as long as it serves what is obviously their targeted purpose : To suck in more members to post which creates more indexed pages, to attract more readers, to vector their thinking and make money, and around and around it goes. It is rather amazing how the entire thing is designed and how most posters there haven't got a clue.