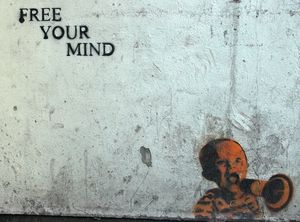 Lately, I find myself in a bit of a funk. It all started with Patrick Fitzgerald riding in on his white horse and dishing out indictments left and right - at least, that's what everyone thought he would do. But that's not what happened.
There has also been a lot of talk lately about impeaching Bush and the rest of the corrupt gang in Washington. Given the rate at which things are progressing in the US at the moment, however, I suspect that in the not too distant future, I may be concluding my thoughts on the impeachment idea with another "But that's not what happened".
The question I keep turning over in my head is this: is it that not enough Americans can see what is going on in the US of A, or is it that enough Americans see, but aren't doing enough?
It is easy to see how the former
could
well be true. American society has always been one of ideals and saviors. The reality of the situation never mattered as much as the fact that one was working toward that ideal job or ideal moral plateau. Nowhere is this more evident than in the extreme religion that the Bush gang uses to garner support in its battle against a different "extreme" religion. Indeed, we might notice that "extremism" is the word of the decade. While many Americans seek saviors to preserve their way of life, the Bush gang warns of "dangerous extremists" - you know: "the Devil himself is at work here!" It's the black and white view that is so loved by the psychopaths in power, and it is one that has unfortunately been adopted by the masses. As long as the people believe they have a little slice of heaven, they won't want to rock the boat too much. It's all or nothing. While many citizens are pleasantly distracted by this little game, the government gets away with whatever it wants. Americans are on a "need to know" basis, and the Bush gang has decided America doesn't need to know a thing.