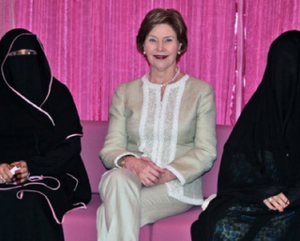 Ask the average American citizen or citizen of a 'Western' country for their opinion on Afghanistan and they will likely offer thoughts along the lines of: "cruel treatment of women, brutal, fundamentalist Islamic Taliban regime, no education, no music." Followed by: "U.S. military, under the command of President Bush, liberated the Afghan people who now enjoy many more Western-style liberties."
Of course, this opinion did not magically spring from humanity's collective unconscious but was implanted into the mind of the average citizen by the U.S. government by way of the mainstream media. It should come as no shock therefore that such beliefs about the history of this Central Asian country are, at best, an extremely subjective interpretation of the facts, and at worst, an outright lie.
In 2005, Laura Bush
graced Afghan soil
and, referring to the previous Taliban regime, declared:
"It's very hard to imagine the idea of denying girls an education, of never allowing girls to go to school."
The only conclusion that we can draw from such a comment is that Laura is not much of a history fan, particularly the history of the latter part of the 20th century which concerns US foreign policy in Central Asia. If Laura had bothered to delve into the harder-to-find history books, she would have discovered the real reason that Afghan women were treated like cattle throughout the 1980's and 90's.