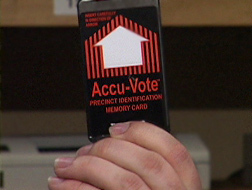 ©Hacking Democracy
A memory card that can be used to rig an election using voting computers.
What would you say if you went in to vote and found there was a man hidden behind a curtain in the voting booth. The man asks you who you want to vote for. You tell him, and he says that he has marked your ballot and put it into the ballot box. You never see the man nor see what he has marked on your ballot. You don't know if he is supporting your candidate, is against your candidate, or is neutral. You don't know if he has honestly recorded your vote or not.
Would you accept to vote under such conditions?
This is effectively what you are doing every time you vote using a computer.