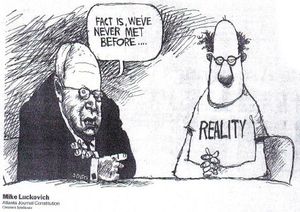 ©Atlanta Journal Constitution
We have already established in the first articles in this series that the insiders are psychologically deviant. What do we mean?
A healthy world view is one that sees the world as it is. Only by seeing the world as objectively as possible can we come up with plans and strategies that fit the facts and that enable us to navigate successfully. If our understanding of reality is wrong, then success can only be subject to chance. Such a view is understood in the sciences. It is obvious that an hypothesis or an experiment that does not take into account the reality being tested will fail. Of course, even failures help us to learn about the world; we eliminate erroneous possibilities and theories. Our knowledge can thus advance, but only if we recognize the error of our ways.