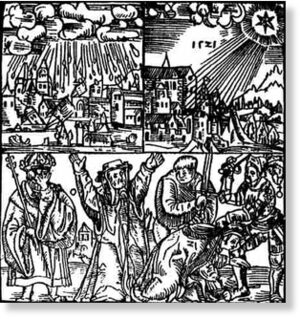 Having recently written a review of
New Light on the Black Death: The Cosmic Connection
by dendrochronologist Mike Baillie of Queen's University, Belfast, Ireland, I decided to go deeper into the subject. Over the past few weeks a whole case of books I ordered have been arriving and getting piled on my desk after a quick thumb-through... so much to do, so little time.
In the meantime, a friend of mine (who is a climate scientist at a major U.S. research facility) turned me on to an interesting find, a paper addressed to the European Office of Aerospace Research and development, dated June 4, 1996, entitled: "The Hazard to Civilization from Fireballs and Comets" by S.V.M. Clube. (For the uninitiated, Clube is an astrophysicist at the University of Oxford).
In this short (4 pages) letter and summary statement, Clube writes (emphases in the original, make of them what you will):
Asteroids which pass close to the Earth have been fully recognized by mankind for only about 20 years. Previously, the idea that substantial unobserved objects might be close enough to be a potential hazard to the Earth was treated with as much derision as the unobserved aether. Scientists of course are in business to establish broad principles (eg relativity) and the Earth's supposedly uneventful, uniformitarian environment was already very much in place. The result was that scientists who paid more than lip service to objects close enough to encounter the Earth did so in an atmosphere of barely disguised contempt. Even now, it is difficult for laymen to appreciate the enormity of the intellectual blow with which most of the Body Scientific has recently been struck and from which it is now seeking to recover.