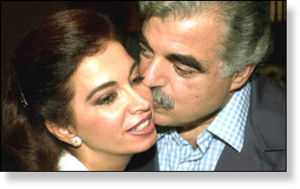 We can only conclude that there must be some kind of agreement between world nations that, even when it is patently obvious, one nation will never expose the activities of anothers' intelligence agency. What other reason can there be for the fact that Iran and Syria were the only two countries to even hint at Israel as being behind the murder of Rafik Hariri on Valentine's day 2005?
Indeed, one of the strongest indications of an Israeli involvement in the murder of Hariri is the fact that not ONE mainstream news source is even mentioning the possibility of Israeli involvement, when it is painfully clear that Israel has the most to gain from his death. But then again, we have become accustomed to the severe lack of intestinal fortitude or any real journalistic integrity on the part of the mainstream media. And also to the fact that much of the Western press is dominated by Israeli sympathisers and/or "Zionists".
To his credit, French President Chirac, perhaps going as far as protocol permitted, held off from immediately implicating any particular group in the murder of his close friend and called for "an immediate international investigation to uncover the real culprits". Coming as it did at the same time as the US government's attempts to force the blame on Syria, Chirac's comment perhaps provides the strongest evidence that Syria was NOT involved. Of course, we don't need the subtle innuendo of any government leader to realise that, while Syria may have stood to gain from the untimely demise of Hariri, it had much more to lose.