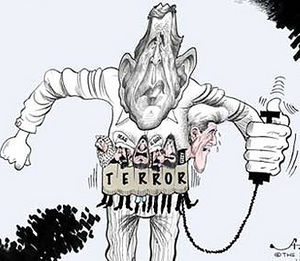 While the Israeli government has turned the Gaza strip and West Bank regions of Palestine into virtual prison camps, there is one section of the Palestinian community that appears to enjoy unhindered freedom of movement and a blind eye form the Israeli camps guards: "suicide bombers".
Today, one of these rare breed allegedly managed to get all the way down to the southern tip of Israel, to the Red Sea resort town of Eilat.
At 9.45 this morning (Eilat time), we are told that a "Palestinian suicide bomber" detonated his explosives in a small bakery, killing three people and himself. As with every other "suicide bombing" attributed to Palestinians over the past 6 years, we are forced to rely only on the claims of Israeli state security forces that each bombing was indeed a "suicide" attack. Such claims are almost always made within minutes of the event, subsequently propagating virus-like around the world's news agencies so that, by the time the world public gets wind of the news, it is already a closed case. There is however much to be gained from looking at the details of these alleged suicide bombings, because when we do, problems with the story invariably arise, not to mention uncomfortable questions.