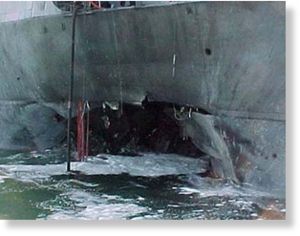 'al-Badawi'. Do you recognise that name? Didn't think so. He's one of the people that the US government alleges carried out a suicide bomb attack on the USS Cole as it sat at a Yemeni harbor in 2000.
The official story goes that Badawi and his accomplices purchased a small boat,
loaded it with 500lbs
of explosives and some ready-made suicide bombers who then drove it alongside the Cole while it was docked and...Kaboom. To the left is a photo of the damage to the USS Cole.
Note the lack of blast damage to the ship around the hole that we are told was caused by 500lbs of conventional explosives. For some reason, that hole reminds me of a WWII movie? Hang on, it's coming back to me, yes, I can see it now, a white trail rocketing towards a ship, just below the surface of the water. Then an explosion at the water line and a relatively neat round hole in the hull. Yes indeed, military explosives are so very efficient. But no, my eyes must be deceiving me, it was a dingy-load of fertilizer that did it.