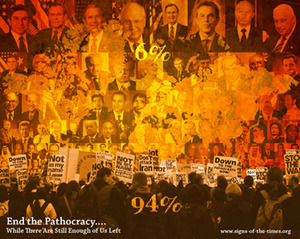 In this week's podcast [Links:
Part One, Part Two
] we discuss what we have identified as the very first problem that must be solved in order for positive changes to be undertaken in America and elsewhere in the world: the Media.
Knowledge is power. Those who control information can control the masses; it's that simple.
As we researched the subject of the media, we came across The
Protocols of the Learned Elders of Zion
. As everyone knows, this is a vicious anti-Semitic hoax. We agree. We do not for a minute think that this represents Judaism or ordinary Jewish people.
However, what
was
shocking for us was our realization that the
Protocols
is being implemented almost line by line by many of the members of the Bush Administration and the various government 'think-tanks' that formulate their policy. In other words, the
Protocols
is not a hoax because it is nonsense, but rather it is only a hoax because it was attributed to Jews.
Here, we present the text of
Protocol 12
from which several excerpts were read on the podcast and which we jokingly referred to as "
The Gospel According to Karl Rove
."
Read it and understand that this is, indeed, the number one issue that America must deal with before they can do a single other thing.