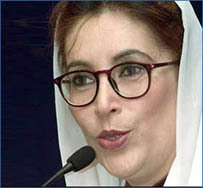 Benazir Bhutto - Murdered by the Pathocrats
Former Pakistani Prime Minister Benazir Bhutto was murdered Thursday December 27th, 2007 in Rawalpindi, a city near Pakistan's capital Islamabad. Having survived an attempted assassination in October,
under the cover of a "suicide bombing" Ms. Bhutto was shot in the neck and head from close range.
Coincidentally (or not) almost 29 years ago her father, Zulfikar Bhutto, also a former PM of Pakistan, was hung in the very same city by then Pakistan dictator General Zia Ul-Haq. In 2003, alleged 9/11 mastermind Khalid Shaikh Mohammed was arrested in Rawalpindi. The evidence for Khalid's involvement came largely from the now destroyed CIA torture tapes. Small world. It should come as no surprise therefore that, while separated by decades, the untimely deaths of Ms. Bhutto and her father are, in the context of the American-led war on terror, inextricably linked. Suffice to say, the fingerprints of the Pathocrats are everywhere.