It's time to wake up to the true cause of all unnecessary war, death and suffering...
---
S. La Chance

SOTT

Tue, 10 Jul 2007 18:17 UTC



Understanding the science of ponerology presents a real and viable opportunity to create a life affirming world rather than the current world ruled by the inhuman laws of war and apathy.
---
The man sitting across the table from you is known for trickery. He is a stage magician. You know he employs trickery, so he tells you he is going to do a card trick in which he can't possibly manipulate the cards. In this trick, you will do all of the card handling. He won't touch the cards at all.
He instructs you to cut the deck into four piles. You do so. He then tells you that you are going to randomize the order of the cards by shuffling them around and moving cards from one pile to another. Pointing to a pile of cards, he instructs you to take the top three cards and place them at the bottom of that pile. Then, take the next three cards and place them, one each, on top of the three piles remaining on the table. You repeat the procedure with all four piles of cards. The cards should now be very well mixed.
The man then begins his patter in earnest. He asks you to confirm the fact that he has not touched the cards. You agree. In no way could he have manipulated how you would cut the cards or handle them. Again, you agree. With a smile, he asks you to turn over the top card from each pile. You are amazed. The four aces sit at the top of each of the four piles of cards. For a moment, your mind might actually entertain the possibility that real magic has been performed, though you "know" you've been duped.
---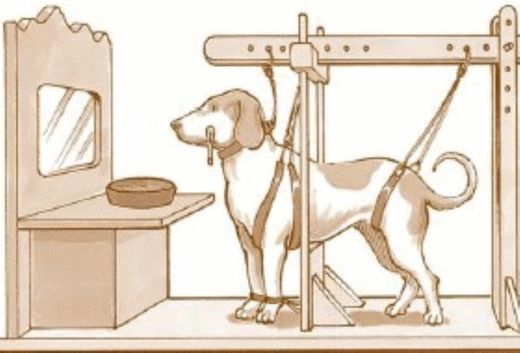 ---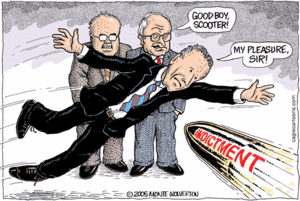 ©Monte Wolverton
Today, the decider in chief of America
over-ruled the decision of a U.S. court
in June this year to jail Lewis "Scooter" Libby, Dick Cheney's former chief of staff, for two and a half years. Libby was convicted in March this year of lying to investigators probing the 2003 leak of CIA official Valerie Plame's identity.
---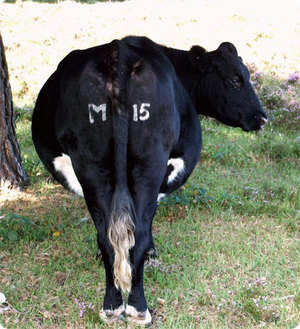 MI5's "Terror Alert" Generator
Just in case anyone thought that Gordon Brown's arrival at 10 Downing Street and his subsequent shuffling of apparently anti-war doves into the British cabinet might mark a sea change in British grovelling at the altar of the Amero-Israeli war of terror, the last few day's events in the UK have shown otherwise. In fact, what Friday's almost bombing of a UK nightclub and the bizarre events at Glasgow airport yesterday actually show is that the public face of the UK government, regardless of whose face it is, has little relevance to or input on how the war of terror evolves.
---
SOTT Editor
Sott.net
Sun, 24 Jun 2007 04:22 UTC

I recently finished reading "The Sociopath Next Door" by Martha Stout Ph.D. and wanted to share with you some realizations. I hope they are helpful.

Before reading the final pages of the book, I was sure that the idea that psychopaths are NOT like most of other people was pretty much "accepted" in my mind. I was sure that I "understood" it intellectually, even if I did not "believe" it 100% yet. Well, somehow, those few final pages organized everything in my mind, and the realization is profound and shocking: psychopaths ARE different. I'll try to explain what I've understood.
---
Stardust
SOTT
Tue, 19 Jun 2007 09:24 UTC
---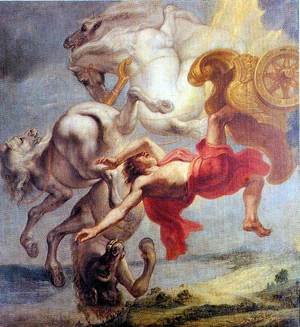 The eagle screams,
And with pale beak tears corpses. . . .
Mountains dash together,
Heroes go the way to Hel,
And heaven is rent in twain. . . .
All men abandon their homesteads
When the warder of Midgard
In wrath slays the serpent.
The sun grows dark,
The earth sinks into the sea,
The bright stars
From heaven vanish;
Fire rages,
Heat blazes,
And high flames play
'Gainst heaven itself"

R.B. Anderson, "Norse Mythology," 1875
NASA seems to
spend a lot of time
looking for and thinking of ways to divert errant asteroids that might possibly hit earth. However, they keep reassuring the public that the probability of actually being hit by an asteroid is extremely small. So why
all the attention
?
---
Henry See
SOTT
Sat, 09 Jun 2007 11:08 UTC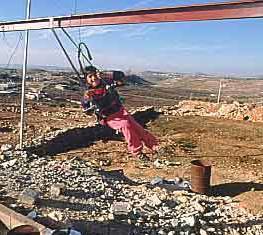 ©Mike DuBose, UMCom
A Palestinian child swings over the rubble of the family home, demolished by Israeli bulldozers in a valley east of Hebron.
The Forward
, which bills itself as "the Jewish daily",
had an article this week
on American Jews who choose to become illegal settlers on occupied Palestinian land. The "difficulties" they face are illustrated by the following comment:
"'Before we found Neve Daniel, my husband told me, 'I love you and I want to live in Israel, but I'm very materialistic and if I don't have a nice house, we're not moving,' said Lara Kwalbrun, a peppy mother of six, as she gave a tour of her luxurious new home while toting a baby in her arms."
As long as moving into an illegal settlement meant life in a mobile home, a large number of American Jews weren't interested. They left it up to their more pioneering and violent brethren to go out and "colonize" the area, to actually confront the owners of the land with clubs and guns and chain saws and bulldozers. Now that the out and out outlaws have "claimed" the land, so to speak, and the base can move into a gated community fed by water siphoned away from the Palestinians and policed by troops paid for by American taxpayers, these new settlers can move in and never have to come into contact with the people they have displaced. You know, the ones walled up in the concentration - uh, refugee - camps out of sight and out of mind.
---