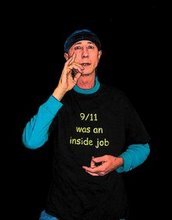 ©Les Visible
Les is More!
One of SOTT's favorite essayists, Les Visible of
Smoking Mirrors
, was interviewed by Mike Rivero of
WhatReallyHappened
on April, 12, 2008. A
SOTT Forum
member has provided a
rush transcript
where we read the following:
Mike Rivero:

Getting back to the lessons of history and to the remembrance that our President's grandfather was business partner with what's his name?... We have all heard about that type of a good German who, just went along and helped Hitler, became a cliché of somebody who thought of being good while doing incredible evil. It seems like in our society we have the same thing going on. We have a good American who supports the president, no matter what he does; he turns the blind eye on torturing people. You mentioned Kafka before. My image of that, of course, is we have tortured Iraqis to find weapons of mass destruction which didn't exist! What do you think about Americans? What is going to happen to them?.



Les:

You know, I'm going to have to like qualify that in metaphysical terms. You are an atheist, right, Mike?



Mike:

Yes, I thank God



Les:

Anyway, I am anything but... but I am not religious at all. I am not into religions at all, but I have daily experiences of another power, a greater power that surrounds us, that penetrates us as a living force. And it is what is responsible for my ability to write.

In fact anything I say or do it's just a matter of me getting out of the way. I am sort of a toreador who dances away from my own bull and somehow the sword is able to penetrate and this sword is one of the light and it then fires up the bull and uses it for fuel, and the next thing you get warmed.

But anyway I believe that my point in bringing all of it up is everything is under control. It's always has been under control. You look, you see stars, you see the planets, you see orderly configurations. You look at the sequences of nature, you look at all different cycles that we observe in the natural world... There is the force that holds all of this together and one day science will actually discover this. It is on the verge of it already. And my belief is that every human being is more or less in contact with this, but when they are willfully not in contact with it like when they are a good Germans and when they are good Germans they are moving increasingly into temporal or the materially based. Now, you know, pressure creates heat, right?



Mike:

Right



Les:

OK. Well, when you press a whole lot of people together, people move deep into a materialistic darkness, more and more heat, more fire occurs. And this has a good point too - hopefully - one would hope. But for people moving into that state of darkness unfortunately certain karmas, certain laws apply.

For instance, if you live in a particular hurricane zone, you know, you are going to get hurricanes. If you live there, that's something you have to factor in. If you are going to live out in a jungle, you've got to be aware of tigers and other things. There are natural dangers that exist and that is a kind of a lifestyle or a place of living. So, when people put themselves into a situation when they have given power, their will, to forces which are unfortunately not very life-affirming, they in some way share that destiny. But for people who are moving towards the light I will put it this way: as the world is being torn down and recycled, a new world is rising up.

I am always extremely optimistic. I know that bad things are going to happen and it's possible that millions and millions of people will die. But I do believe that something very very good is going to happen.

I see the whole of life, Mike, as a Shakespearean play in which the same stories are told over and over again and people are given the opportunity to learn from them. If they do not learn, then there are certain pains that happen. Pain is the great instructor. For those who do learn, they do move away from pain.